Nothing Stands In Their Way
2016 Sales Leader: Wilfred 'Zip' Zipperer, Baker Paper Company
---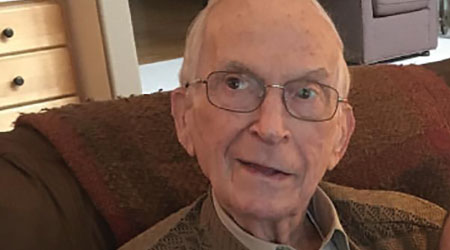 At 92 years young, there's just no stopping Wilfred "Zip" Zipperer.

"I've been a busy man for my age," says Zip, a sales rep with Baker Paper Company in Cedar Rapids, Iowa.

Although he claims he "retired" from the industry on Nov. 1, 2016, Zip can still be spotted out and about making sales calls with his son and right-hand man, Dave Zipperer, a few days a week.

"He needs his dad, yet," Zip says jokingly.
"I let him think that anyway," Dave responds with a laugh.

All kidding aside, there truly is no holding Zip back from visiting his beloved customers. After all, they've been his extended family for the last 55 years.

"I truly love these people, and I think they love me," says Zip. "I miss it when I'm out of it, you know? But you know what? They're still glad to see me."

Zip's journey in the jan/san distribution industry dates back to 1962, when he was hired as an outside sales rep at Baker Paper.

"I was telling someone a while back that when I started in 1962, there was not even as much as a calculator," says Zip. "Everything was done with pencil and paper. They figured commissions and all of that. I bet there was a lot of mistakes in those days. But anyway, we lived through it."

Through a lot of hard work, Zip worked his way up the ladder to become general manager, and in 1983 he purchased Baker Paper. After 33 years of running the business, and at age 92, Zip sold Baker Paper to Iowa-Des Moines Supply, a jan/san distributor headquartered in Des Moines, Iowa.

"Most guys are retired in their mid-60s or 70s, and Zip has had a whole career after that," says Todd Weidmaier, president of Iowa-Des Moines Supply. "He's incredibly well-respected. The guy just won't quit. He's a machine."

Zip's memory is still as sharp as a tack. Ask him to share stories of his days in the U.S. Army and instantly he goes back in time. In 1943, he enlisted in the Army with his best friend from kindergarten. From 18 to 22 years of age, Zip fought on the frontlines in World War II as a private first class in Company I of the 15th Infantry Regiment of the 3rd Division. During those four years, he was wounded three times — the worst when he was hit by a sniper's bullet in the Battle of Anzio (Italy) in 1944.

"I was hit in the right chest and as it came out my back it tore five little holes in my back," says Zip. "When they did the surgery, they cut from hole to hole, so I got one incision. I was in the hospital for seven months."

When all was said and done, the American government presented Zip with three Purple Hearts, a Bronze star, the European African Middle Eastern Service Medal, the American Campaign Medal and the Good Conduct Medal. He was also presented the Knight of the Legion of Honor Medal, the highest French order for military and civil merits, established by Napoleon Bonaparte.

His battle wounds are still felt today — his hearing is gone a little and he says a machine gun's spray to the legs is likely the cause of some bone-on-bone pain in his left leg. But, you better believe that as long as his son Dave is by his side, he'll keep trudging out — cane in tow — to make his rounds.
previous page of this article:
2016 Sales Leader: Ross Hiller, Jersey Paper Plus
next page of this article:
2016 Sales Leader: Shirley Coleman, Dutch Hollow Supplies
Disclaimer: Please note that Facebook comments are posted through Facebook and cannot be approved, edited or declined by CleanLink.com. The opinions expressed in Facebook comments do not necessarily reflect those of CleanLink.com or its staff. To find out more about Facebook commenting please read the Conversation Guidelines.