freetime
Legionnaires' Flags Always Fly High
---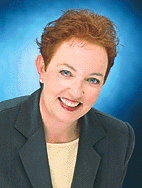 Many of us became more patriotic after the September 11 attacks. We are flying our flags, wearing our stars-and-stripes T-shirts, and singing along to "The Star-Spangled Banner" like never before.

But, before September 11, there was a group of people for whom patriotism was already a part of everyday life. Gary Heral, president and CEO of Heral Enterprises, a Little Rock-Ark. distributor, is an enthusiastic member of that group: The American Legion.

Gary, who served in the U.S. Air Force in Vietnam, just finished a term as commander of the state of Arkansas American Legion. He is currently on the Legion's National Americanism Committee, the National Baseball Subcommittee, the Arkansas Veterans' Commission and the Medal of Honor Commission. When he was elected to the Arkansas commander post, Gary said, "I was so involved it was almost a full-time job."

The U.S. Congress chartered the American Legion in 1919 as a wartime veterans' organization. There are currently 3 million members in 15,000 American Legion Posts worldwide. "The hard work and determination of countless Legionnaires throughout the years have produced tremendous results," Gary said.

Do you know anybody who has been in a VA (Veterans Administration) hospital? Or do you know anyone attending college on the "G.I. Bill"? Gary Heral, his predecessors and colleagues in the American Legion sponsored and supported the federal legislation that made it possible.

It hasn't always been popular to be known as an armed forces veteran. "When I came back from Vietnam, they warned us to not wear our uniforms; but all that has changed," Gary said. The average age of members is also changing. "The most active members in the Legion today are the World War II veterans — the 'Greatest Generation' guys. But, traditionally, as that generation aged, the membership numbers decreased. The good news is that this year, we've stopped that decline on a nationwide basis."

The impact of the American Legion goes beyond the veterans or the armed forces. For instance, the Legion is the organization that established the guidelines for American flag etiquette. (It also supplies 16,000 flags that are placed on the graves of American soldiers each Memorial Day.) The Legion, Gary says, is the single largest blood donor in the nation. Last year alone it contributed more than 95,000 units of blood.

Gary's American Legion involvement started with baseball. There are more than 5,200 American Legion-sponsored baseball teams nationwide, with 95,000 teen-age players and 16,000 coaches.

Most attractive to Gary are the programs the Legion sponsors for young people. More than 235,000 young people were directly involved in American Legion programs last year, which include governmental education, scholarships, oratorical contests, drug abuse prevention, children's immunization and many more.

You can tell that Gary is most passionate about the youth programs. "The Legion does a lot for veterans. It's the best advocate that our military has, and that our veterans have," Heral said. "But the kids are the best part. I ask the kids to come in and speak to Legion members, and it really makes you feel good. This country is going to be all right, because we have some great young people coming through to take positions of leadership."

If you come in contact with Gary Heral and qualify, you better be ready to join the American Legion. Every sales representative — if they're eligible for membership — who does business with Gary's company joins the Legion. "Or we won't buy from them." Gary's local Yellow Pages salesman can attest. The phone book includes an advertisement from Heral Enterprises — and the American Legion has a brand new member.

Gretchen Roufs, a 15-year janitorial supply industry veteran, owns Auxiliary Marketing Services of San Antonio.

Disclaimer: Please note that Facebook comments are posted through Facebook and cannot be approved, edited or declined by CleanLink.com. The opinions expressed in Facebook comments do not necessarily reflect those of CleanLink.com or its staff. To find out more about Facebook commenting please read the Conversation Guidelines.