Readers Of This Article, Also View:
Reduce Cost, Improve Floor Care Equipment Productivity with Training -

Sponsored Learning
FREETIME
Helping Kids Be Kids Again
---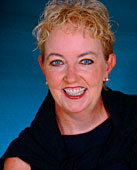 David Swanson used to help fight fires. Now he helps kids who have survived fires.

A Kalamazoo, Mich.-based regional manager for Degussa STOCKO Skin Care, Dave is a volunteer at the Great Lakes Burn Camp for burn-injured children.

The camp, located in Texas Township, Mich., was founded by a firefighter and is run entirely by volunteers. The program gives kids from all over the country — the severity of their injuries varies — the chance to spend time being regular kids again. There is no cost to the families for the camp experience.

"Our main purpose is to make sure that the kids have a great experience at the camp. The work we do as volunteers is small compared to what the kids do to conquer their fears and challenges," Dave said.

The kids who attend the camp are brave, young burn survivors, ages 7 to 17. Soap salesmen, nurses, doctors, restaurant owners, and of course, firefighters, are the committed volunteers who run the week-long burn camp.

Dave, a former volunteer fireman and paramedic, got involved after he asked his buddy, a fire chief, about the logo on his shirt. It was a Great Lakes Burn Camp logo. When he learned more about the camp, Dave volunteered to help.

One of the things that's really important to the kids is that while they're having their camp adventures, nobody mentions their past injuries, Dave said. It's a time for the burn survivors to have fun in a setting where nobody makes a big deal about their scars or injuries.

Dave was able to arrange to have two of the STOCKO-sponsored National Hot Rod Association racecars brought in to the camp. Most of the kids had never seen a racecar up close. "Two racecar drivers showing up with their cars in the middle of the woods in rural Michigan was definitely a great distraction for the kids," Dave said.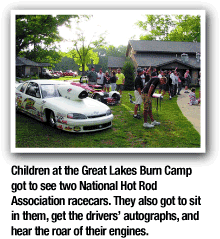 The kids got to learn about the cars, sit in them, get the drivers' autographs, and hear what it really sounds like when the engine of a racecar is started up. David noticed one kid, especially. "He was a very quiet young man who hardly said a word to anybody. I was at the camp having breakfast with the firemen, and this kid joined us.

"The boy asked questions about the cars, like 'how fast does that white car go? Did you ever drive it? Do you have a car? How fast does it go?' According to his counselors, this kid normally doesn't say anything, so the cars really brought him out of his shell." Dave's son Eric also volunteered at the camp. "Eric is 16, so the kids can easily relate to him because of his age."

In February, the kids will be reunited for a long weekend of "snow-filled fun in northern Michigan." Dave, Eric, and other volunteers will be with them skiing, ice-skating, and tobogganing.

It's word-of-mouth that seems to be the most effective way to recruit volunteers to the camp, Dave said. "People hear about the camp, and think, 'Hey, I can do that' — just like I did."

That's exactly what was going through my mind as Dave told his story. I might just see if they need any swimming teachers next August. I could teach them to swim, and they could teach me about bravery.

Gretchen Roufs, a 15-year janitorial supply industry veteran, owns Auxiliary Marketing Services of San Antonio. To suggest someone you think should be featured in "freetime," contact her at (210) 601-4572.
Disclaimer: Please note that Facebook comments are posted through Facebook and cannot be approved, edited or declined by CleanLink.com. The opinions expressed in Facebook comments do not necessarily reflect those of CleanLink.com or its staff. To find out more about Facebook commenting please read the Conversation Guidelines.