Readers Of This Article, Also View:
Reduce Cost, Improve Floor Care Equipment Productivity with Training -

Sponsored Learning
NEWSWORTHY
Jan/San Industry To Aid Tsunami Survivors
---
On December 26, an immense earthquake — 9.0 on the Richter scale — and ensuing tsunami caused devastation throughout Sri Lanka, India, Indonesia, Thailand, Malaysia, The Maldives and other countries around the rim of the Indian Ocean. At press time, the estimated death toll was around 160,000. However, that number is expected to rise in the wake of related disease and starvation.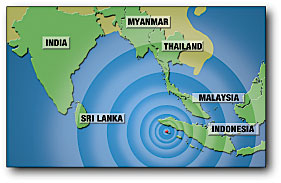 As donations and aid pour in from other nations — Japan, the biggest donor, and the United States have pledged $500 million and $350 million, respectively — the sanitary supply industry is also gearing up to contribute assistance to the cleanup of the tsunami's aftermath.

"Unfortunately, it takes a tragedy of this magnitude to remind people how important hygiene products are to a safe and healthy environment," said Brian Sansoni, vice president of the Soap and Detergent Association (SDA), Washington. "Hygiene products help save lives, and we're going to be seeing proof of that in the weeks and months ahead."

In a January 3 report, the World Health Organization (WHO) named soap and hygiene products among the vital supplies needed for the crisis in South East Asia: "The most practical and effective strategy to prevent cholera and typhoid is to provide clean water in adequate quantities and adequate sanitation. Sufficient soap and hygiene education will further prevent the transmission of both diseases."

In order to help jan/san manufacturers and distributors send the right sanitation supplies to the correct organizations, SDA and the International Sanitary Supply Association (ISSA), Lincolnwood, Ill., are directing their member companies to Gifts In Kind International, a worldwide third-party organization that filters product donations to the most needy agencies.

"The biggest need initially was cash donations, so we helped our members get in contact with the Red Cross and other organizations," said Tracy Weber, operations manager for ISSA. Recently, however, Weber received a list of vital items needed from ISSA members; the list includes disinfectants, soap, hand sanitizers, compost toilet units (moveable) and sanitary napkins. Distributors can contact Gifts In Kind International to donate these and other products.

In addition, many jan/san manufacturers — some with branches in or near South East Asia — are organizing plans to get sanitation supplies to the most needy areas, but the task of delivering the right products to the right people continues to prove difficult.


---
NEWS MAKERS
U.S. Factory Orders Increase 1.2 Percent
The U.S. Department of Commerce recently announced that factory orders in the United States increased a "strong" 1.2 percent from October to November in 2004. The increase signals a stronger economy and compares favorably to the previous increase of 0.9 percent from September to October.

Dri-Eaz President Calls for Third-Party Certification
In a formal letter to a broad spectrum of jan/san industry professionals, Bill Bruders, president of Dri-Eaz, Burlington, Wash., a manufacturer of cleaning and maintenance machinery, requested action that would lead to independent testing of restoration equipment by "nationally recognized certification agencies." In addition, Bruders called on the Institute of Inspection, Cleaning and Restoration Certification (IICRC) to set an official requirement to verify restoration performance.

WHO Urges Preparation for Influenza Outbreak
The World Health Organization (WHO), Geneva, Switzerland, recently issued a warning that "governments must brace for a future flu outbreak, because one will strike inevitably." WHO compared a possible outbreak to the 1918-1919 Spanish Flu that killed up to 40 million people around the world. In addition to making vaccines accessible, WHO urged increased cleanliness and sanitation for highly populated areas.

Sam Weiss Retires
After 53 years, Sam Weiss has announced that he is retiring from United Receptacle, Pottsville, Pa., a manufacturer of waste and recycling receptacles. Weiss joined the company in 1948 as an engineer. In 1970, Weiss purchased the company with Milton Greenberg. Weiss' son, Richard, is now president and CEO of United Receptacle.

---
MERGERS & ACQUISITIONS

Enviro-Solutions, Toronto, Ontario, a manufacturer of jan/san cleaning products and chemicals, recently announced that it has been acquired by Charlotte Products, Peterborough, Ontario, a manufacturer of a variety of cleaning chemicals, including janitorial, industrial, dishwashing and professional laundry chemicals.

Kimberly-Clark Corp., recently announced that its paper plant in Hattiesburg, Miss., has been sold to a private investor from Green Bay, Wis., and will be renamed Hattiesburg Paper Corp.


---
International Stone Institute Established
Fred Hueston, head of the National Training Center (NTC) for Stone and Masonry Trades, Asheville, N.C., recently announced that "the International Stone Institute (ISI) has been established to help fill an information void for those companies and individuals who design, install, fabricate, restore and/or maintain dimensional stone and other stone products."

According to the announcement, ISI has contracted with Hueston and the NTC to manage the new organization. Hueston will act as executive director of the Institute. "ISI is solely focused on advancing the industry and helping promote the use of stone and engineered stone," he said. "There is a void in education, practical standards, useful information and technical help in dealing with issues and problems confronting our industry."

Hueston pointed to the 50,000 or more businesses in the United States that are involved in the stone and tile industry, saying that there needs to be a single organization to help those companies. Click here for more information.


---
White House and Congress Wrestle With Social Security Reform, Impact on Business
Along with tax reform, Social Security reform promises to be one of the hottest economic issues for the United States in 2005. Already, President Bush and members of Congress have jostled for their respective positions on the issue of Social Security, and business leaders got a chance to voice their concerns at the White House Economic Conference in mid-December.

By and large, the biggest concern for business is how an aging workforce — many of which are quickly approaching retirement age — can prepare for the future, perhaps even a future without Social Security.

"The issues of Baby Boomers like us retiring, relative to the number of payers into the system, should say to Congress and the American people, 'We have a problem,'" said President Bush to business leaders at the conference.

Many Democrats also agree that the current Social Security system could unduly burden employees and company owners with increased payroll taxes in the coming years.

"When I first arrived in Congress in 1983, we had a Social Security shortfall," said Tim Penny, a professor and co-director of the Hubert Humphrey Institute of Public Affairs and a former Democratic Congressman, at the conference. "We were borrowing money out of the Medicare fund to pay monthly Social Security checks. So what did we do, because we were already in a crisis? We cut benefits by delaying cost-of-living adjustments; we cut benefits by raising the retirement age —[to] 66, and ultimately to 67 — and we increased payroll taxes, significantly, during the 1980s. And so we basically said to future workers, based on that legislation in 1983, you're going to pay more and get less."

Although many in Congress agree that Social Security reform is paramount, a number of other members of Congress believe that tampering with the current system could prove disastrous.

"Reform should not be used as an excuse to decimate the structure of a program that has ensured a secure, independent retirement for millions of Americans," said Senator John Kerry.

Regardless of the outcome, the decision that the 2005 Congress makes on Social Security will have numerous long-term consequences for business — from a potential retirement-age change to increasing business taxes in order to keep up with retirement benefits.
Disclaimer: Please note that Facebook comments are posted through Facebook and cannot be approved, edited or declined by CleanLink.com. The opinions expressed in Facebook comments do not necessarily reflect those of CleanLink.com or its staff. To find out more about Facebook commenting please read the Conversation Guidelines.