Readers Of This Article, Also View:
Reduce Cost, Improve Floor Care Equipment Productivity with Training -

Sponsored Learning
Take A Hike
Freetime: Paul SerVaas Of Bar Keepers Friend Is Mountain Climber And Adventurer
---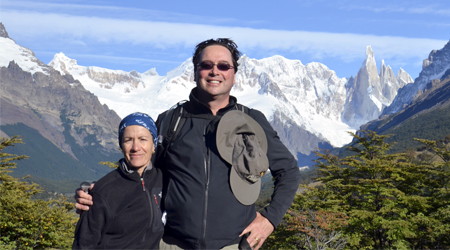 Paul SerVaas traverses across countries and circles around mountain ranges. He does it on foot at a pace of 10 to 15 miles per day.

Paul, president of Bar Keepers Friend in Indianapolis, and his wife Marsha typically do two big hikes every year. These treks are rated by the tour operator as "strenuous expeditions," and involve full-day hikes that are sometimes at high altitudes. However, the trekkers don't have to worry about cooking, pitching a tent, or carrying a heavy backpack, because the group hikes from lodge to lodge for nightly accommodations.

To prepare for their adventures, Paul and Marsha walk their two dogs about three miles every day, and increase their daily mileage as they get closer to a trip.

"I'm 62 and I feel good about these long hikes, and want to keep going. You're never promised another day," says Paul. "As I get older, I just take Aleve."

Paul says that every hike is different. They recently trekked across England (13 days and 137 miles) from the Irish Sea to the North Sea.

"Whenever we came to a beautiful view, our guides would stop and hold forth with British poetry," says Paul. "We always meet very interesting people on the hikes. And we appreciate the good guides, good company and good food."

Mountain passes are frequent features on the trails that Paul and Marsha travel. One of the routes they took circled Mont Blanc, the highest point in western Europe, taking the hikers through France, Italy and Switzerland. When they hiked Machu Picchu in Peru, Paul says they went up the back way, and traveled over a 15,000-foot mountain pass.

"It was very foggy when we went over the pass, and we could hardly see," he says. "The two cooks and three horses who brought the food to our group made it over the pass before we did, and when we caught up with them, they gave us hot towels and served us tea. It was every bit as fabulous as you can imagine."

Their Patagonian hiking trip at the southern tip of South America included forays into national parks in both Argentina and Chile. Paul said the mountains were like spires, and that the winds and the clouds are different there than anywhere else.

"The clouds park over the mountains, the winds blow them, and the clouds retain their odd and interesting shapes," says Paul.

Paul's favorite hikes have been in Hawaii, Joshua Tree National Park in California and Zion National Park in Utah.

"A most amazing place in Zion is called 'Angels Landing.' It has metal cables along the way to help you climb," says Paul. "I don't have any pictures of that hike, because I was hanging on for dear life."


Gretchen Roufs, a 25-year janitorial supply industry veteran, owns a marketing and public relations company in San Antonio. To suggest someone you think should be featured in "Freetime," contact her at Gretchen@GretchenRoufs.com.
Disclaimer: Please note that Facebook comments are posted through Facebook and cannot be approved, edited or declined by CleanLink.com. The opinions expressed in Facebook comments do not necessarily reflect those of CleanLink.com or its staff. To find out more about Facebook commenting please read the Conversation Guidelines.