Readers Of This Article, Also View:
Reduce Cost, Improve Floor Care Equipment Productivity with Training -

Sponsored Learning
Nothing Stands In Their Way
2016 Sales Leader: Shirley Coleman, Dutch Hollow Supplies
---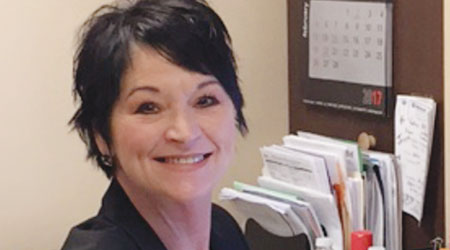 In the early months of 2016, Shirley Coleman, a sales rep for Dutch Hollow Supplies in Belleville, Illinois, was feeling great, eating healthy, working hard, and living life to the fullest with her husband, four kids and seven grandchildren. But after going to the doctor for a routine checkup in June, her world came to a screeching halt. Coleman received some devastating news — the breast cancer that she had beaten in 2002 was back.

"I was blown away," says Coleman. "I said to myself, 'You've got to be kidding me!'"

Since it was a recurrence, her doctor elected she have a bilateral mastectomy.

On a strict no-movement recovery plan after surgery, Coleman had to return to the doctor every two weeks and was out of commission from work from August until mid-October.

She was worried that her customers would freak out when she broke the news to them. But, she assured them that she'd be back stronger than ever. And getting back to work is exactly what she did. Even though Coleman wasn't out selling for two-and-a-half months and worked a lot from home, she still managed to surpass $1 million in sales in 2016, the third consecutive year she hit the $1 million mark, earning the President's Club Award.

"Through all of this she has not only maintained her customer base without relying on our inside support staff, but she has added new customers and grew her book of business," says Eric Cadell, vice president of operations at Dutch Hollow. "She has also taken it upon herself to use her story as motivation to our other distributor sales reps on commitment and dedication and how to achieve goals without discouragement."

Coleman could have caved. But she is a fighter. In fact, she has survived cancer on three different occasions — she also fought off ovarian cancer in 2009. She says she wouldn't be able to do it without her amazing support staff at home, her second family at Dutch Hollow and her customers.

"Coleman's optimism through this dark time has been impressive and moving to watch," says Cadell.

Coleman doesn't want anyone's pity. In fact, she doesn't really like to share her story openly, because she doesn't like the spotlight on her. Instead, she'd rather talk about work.

"I absolutely love what I do," she says. "I love the people that I do it for. I love the people that I am working with to grow my business."

Even through her hardship, her focus steadily remained on helping her customers and growing her business. As she celebrates her five-year anniversary at Dutch Hollow in February, she is recharged and is ready to hit the ground running in 2017. And she's going to do it her way.

"It's not about selling products for me," says Coleman. "It is, but I want to sell them more solutions. And it's probably why I've had the customers for as long as I have. I want to make their numbers better for them. I want to find a solution on how to do that, not just push the most expensive product that we have."
previous page of this article:
2016 Sales Leader: Wilfred 'Zip' Zipperer, Baker Paper Company
next page of this article:
2016 Sales Leader: Jack Loughrey, Dalco Enterprises
Disclaimer: Please note that Facebook comments are posted through Facebook and cannot be approved, edited or declined by CleanLink.com. The opinions expressed in Facebook comments do not necessarily reflect those of CleanLink.com or its staff. To find out more about Facebook commenting please read the Conversation Guidelines.