Nothing Stands In Their Way
2016 Sales Leader: Ross Hiller, Jersey Paper Plus
---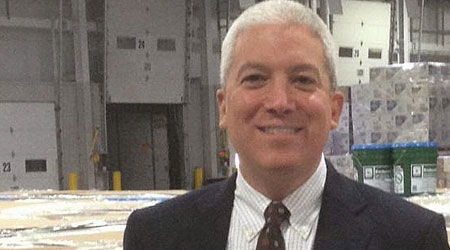 If there is a distributor sales award for going above and beyond the call of duty for a customer, Ross Hiller definitely takes home the honor.

There aren't many sales reps in the industry that can say they delivered toilet paper to a customer … during a hurricane. Ross, a sales rep with Jersey Paper Plus in Edison, New Jersey, can.

In 2012, Hurricane Sandy caused mass destruction on the East Coast. Most of New York and New Jersey was without electricity for nearly 10 days and the gasoline supply was scarce. As a result, businesses were closed and people couldn't get to work. However, one of Ross' customers had a generator powering its building so employees were still able to report to work. The customer called Ross to see if it was possible to have toilet paper delivered. Ross quickly jumped into action and drove from his house on Long Island, New York, to his company's warehouse in Bayonne, New Jersey.

"I was lucky enough to fill up my car, drive to Bayonne, and open up the warehouse," says Ross. "I put one of those mining lights on my head, because we had no lights in the warehouse. When I got in there, I had no floor clips to pull the boxes off the skids, so I physically climbed on top of piles of product to pull the toilet paper, put it in my trunk, and delivered it to the customer."

When Ross arrived with the product, he says the customer of 15 years wasn't one bit surprised.

"They told me that they really weren't surprised with what I did, because I had come through for them all the time," says Ross. "But at the same time they said to me it was something that they weren't going to forget. And as long as they were there, I had a partner for life, because they had the pressure on their shoulders and I came through for them."

Harvey Hiller, Ross' father, business partner, and mentor at Liberty Paper (Liberty Paper joined forces with Jersey Paper Plus in March 2016) recalls another similar situation where Ross came through for a customer in need.

"Following a blizzard in 2015, there was a shortage of ice melter and calcium chloride," he says. "Ross has a friend who owns a hardware store in Connecticut. He drove over three hours north to Connecticut, picked up 35 bags and drove it back into New York, because someone he's had a relationship with for 15 years needed it."

Ross learned from Harvey, an industry veteran of nearly 50 years, that "a relationship means everything and a handshake still means something." So, when customers put their trust and faith in him, Ross says he doesn't take it lightly or for granted.

"When I start a relationship with somebody, I become a partner of theirs. I also become 'an employee' in their organization who is not on the payroll," says Ross. "I put a lot of pressure on myself to feel like I can't let these people down no matter what."

This work ethic is what propelled Ross to be Liberty Paper's top selling sales rep from 2000-2016 and helped the company grow seven times the size it had been when he started selling in 1994.

"I always say, 'People buy from people they like,' and people really like Ross," says Harvey. "He's so mild-mannered and easy to get along with. He genuinely cares about his customers, and he builds long-lasting relationships with them."
previous page of this article:
Five Jan/san Distributor Sales Reps Who Broke Through In 2016
next page of this article:
2016 Sales Leader: Wilfred 'Zip' Zipperer, Baker Paper Company
Disclaimer: Please note that Facebook comments are posted through Facebook and cannot be approved, edited or declined by CleanLink.com. The opinions expressed in Facebook comments do not necessarily reflect those of CleanLink.com or its staff. To find out more about Facebook commenting please read the Conversation Guidelines.