Readers Of This Article, Also View:
Reduce Cost, Improve Floor Care Equipment Productivity with Training -

Sponsored Learning
A Haunting In Iowa
Freetime: Mike Ossian, Ossian Inc., Produces Indie Horror Films Starring His Wife
---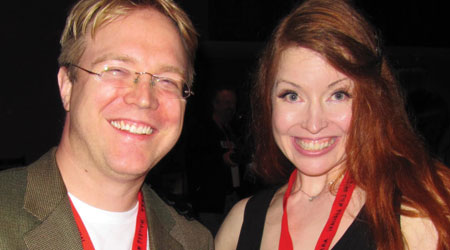 Mike Ossian wants to make you scream. Director of operations for Ossian, Inc., a Davenport, Iowa-based ice melt manufacturer, Mike's hobby is making horror films.

"I've been interested in filmmaking all of my life," says Mike. "Some kids like to dress like movie characters and go to conventions. I wanted to be the one who actually makes the movies."

Mike studied film and animation in college, and worked for a video game firm in Chicago for about 10 years. He met his wife Anne in Chicago and together they moved to Hollywood where he worked for Digital Domain, a visual effects house.

"I was the video game guy who went into movies," he says.

The couple left Hollywood and moved to Iowa so Mike could attend graduate school and join the family business. Anne, who attended the Second City comedy school in Chicago and studied writing at UCLA, pushed Mike to make feature films. In 2005, they started their first feature film in Iowa.

"We bought a 100-acre farm, much of which is wooded and hilly and has lots of nice locations for filming," says Mike. "We used our farm as a backlot."


So far, they have made two feature-length movies, "Roman's Bride" and "Psycho Magnet," both of which are award-winning films featuring Anne as the main actress. Awards include Winner of Best Feature Film, Best Visual Effects, and Best Original Score from the Iowa Motion Picture Association; Audience Favorite at the Phoenix Fear Film Festival; and Official Selection of New York New Filmmakers.

"After winning an award at the Phoenix festival, 'Roman's Bride' was invited to play at the festival in New York," says Mike. "The New York Post called it 'The Iowa Chainsaw Massacre,' which is a great compliment in the world of horror films."

Independent filmmaking has its challenges, including time and money. Because he works full time, Mike makes films on weekends, using volunteer actors and crew, including other Ossian employees.

"When you're making a low-budget movie and you're limited to filming on weekends, it's challenging to capture the magic moments," he says. "The main actor has to be someone you have infinite access to, so they're available when you come up with an idea. When you're the guy behind the camera, and your wife is the main actress, and you get a perfect foggy night, you can drop everything, go outside, and start filming."

Mike and Anne divide the roles on the movie projects. Mike focuses on everything behind the camera while Anne writes, produces and acts. They share editing duties.

"It's great to work with Anne," says Mike. "When one of us is stressed and exhausted, the other one keeps things going."

Known as "Michael Paul" in his filmmaking work, Mike gets a tremendous amount of enjoyment from making horror movies.

"We have a great pool of talented people who are really committed to our projects," he says.


Gretchen Roufs, a 25-year janitorial supply industry veteran, owns a marketing and public relations company in San Antonio. To suggest someone you think should be featured in "Freetime," contact her at Gretchen@GretchenRoufs.com.
Disclaimer: Please note that Facebook comments are posted through Facebook and cannot be approved, edited or declined by CleanLink.com. The opinions expressed in Facebook comments do not necessarily reflect those of CleanLink.com or its staff. To find out more about Facebook commenting please read the Conversation Guidelines.