Readers Of This Article, Also View:
Reduce Cost, Improve Floor Care Equipment Productivity with Training -

Sponsored Learning
The Green Defender
How Charles Moody Came To Believe In Green Cleaning Products
---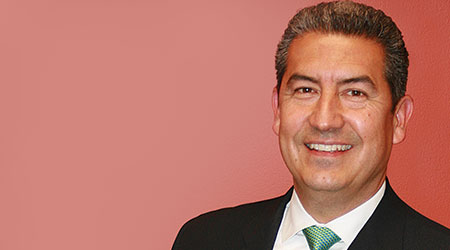 This is part one of a four-part article profiling Charles Moody and his company, Solutex, Inc.

Charles Moody put a lot of thought into the name Solutex, Inc., the janitorial supply distributorship he created in 1995. When brainstorming ideas, he knew he didn't want to include the word "chemical."

"The word 'chemicals' was such a dirty word," he says.

Eventually, Moody landed on Solutex, with its root in the word "solution." It was an easy way to avoid the unfavorable imagery associated with chemicals. And the company name Solutex has done quite well for Moody, who has grown to be a well-known player in the Virginia and Washington, D.C., market.

These days, however, Moody isn't looking to avoid the word "chemical" — he's hoping to rebuild its reputation, one green cleaning product at a time.

First, Moody has ensured that every chemical sold under the Solutex brand name uses surfactants deemed safer by the Environmental Protection Agency's Safer Detergents Stewardship Initiative (SDSI). What's more, Moody has worked with the EPA's Safer Choice program, formerly called Design for the Environment (DfE), to earn Safer Choice certification for 20 of the company's products, including many of its most popular chemicals.

And Solutex has made these changes while maintaining above average gross profit margins, he says.

"Never in this whole thing has this made us a weaker company or given us fewer choices," says Moody. "I don't think of it as a sacrifice as much as a benefit."


Not So Green
Moody got his start in the cleaning supply business driving a truck for a distributor called J. Reilly & Associates. He later moved over to sales and learned as much as he could from his boss and mentor Jim Palmer.

Moody worked for J. Reilly & Associates for nine years before leaving to start Solutex with his wife, Monica, in 1995 at age 27. The company grew little by little until Moody acquired another local distributor in 1998 from a couple looking to retire. Solutex again acquired local distributors in 2006 and 2007, and both Moody and Monica, who serves as Solutex's vice president and CFO, began to make themselves known in the jan/san industry — though not yet for green cleaning products.

In fact, when Moody founded Solutex back in 1995, he wasn't thinking about green cleaning. He says he always used to lean rightward politically, and he even used to view the EPA as a "big brother organization that fines companies and puts them out of business."

"I had the negative view of what you see on TV and what the news portray," says Moody.

That all changed on a plane ride back from ISSA/INTERCLEAN in 2011. Sitting next to a chemist from the EPA, Moody struck up a conversation about the program then known as DfE.

Until that point, Solutex had largely avoided green cleaning products. The company almost exclusively sells private label products, and, as such, couldn't simply sell national chemical brands that had already received third-party green cleaning certification. As it so happened, many of Solutex's private-label chemicals were already worthy of third-party certification, but Moody's business wasn't prepared to pay some of the fees associated with third-party certification.

Enter the EPA's DfE program, now known as Safer Choice. On the plane ride back from the convention, the EPA employee answered Moody's questions and sufficiently piqued his interest. Moody, who was always something of a green cleaning skeptic, was immediately sold. It was as if a switch had been flipped.

As soon as he got back to the office, he immediately tasked his office manager, Karey Deihr, with contacting each of his chemical vendors to inquire about chemical formulas and how they could be changed. She was shocked at first, since it was a big undertaking, but Moody's enthusiasm was apparent.

"Charlie is so passionate," says Deihr, "it's contagious."
next page of this article:
Solutex Embraces EPA's Safer Choice Program
Disclaimer: Please note that Facebook comments are posted through Facebook and cannot be approved, edited or declined by CleanLink.com. The opinions expressed in Facebook comments do not necessarily reflect those of CleanLink.com or its staff. To find out more about Facebook commenting please read the Conversation Guidelines.