« Back to Branded Features.
SPONSORED
Make Combating Indoor Allergens a Priority This Season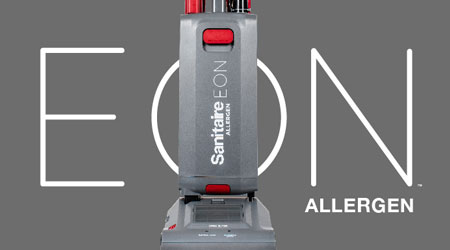 If you're noticing more sneezing, runny noses and coughing in your facility, think from the ground up. According to the Asthma and Allergy Foundation of America (AAFA), allergens, such as warm-weather pollutants like tree and grass pollen, can settle on indoor surfaces before rising into the air.

Once in the air, allergens can cause severe health issues, making it essential for facility managers and professional cleaning crews to capture them at the surface level to control and reduce harmful impacts. One of the most crucial steps to reducing allergens from indoor surfaces, and therefore from the air? Vacuuming often and using the right products. Take the following steps to set excellent air quality standards in your facility:

Understand the Health Risks
If proper vacuuming isn't a point of emphasis, health risks caused by allergies – from headaches to heart disease – can increase. Additional concerns include a higher rate of absenteeism and work-related injuries, as well as a decrease in school performance.i

The 26 million asthma sufferers in the U.S.ii face more significant problems. Poor indoor air can reduce the quality of life for asthmatics by exacerbating symptoms that can lead to missed days at school or work, asthma attacks, emergency room visits and hospital admissions.

Trust the Experts
While overall cleaning performance is vital, there are other factors to look at – such as industry-leading certifications – when determining the best vacuum for combating allergens. Commercial vacuums recognized by the AAFA's asthma & allergy friendly® certification program reduce exposure to asthma and allergy triggers. The certification's rigorous evaluation focuses on the following factors:

• The ability to remove allergen-containing dust from carpets and hard floors
• The levels of airborne allergens and general dust during vacuuming
• The integrity of the air filtration system
• The vacuum cleaner's performance when the bag is partly filled and the filter change signal has activated
• The exposure to allergens when changing the bag or emptying the receptacle
• The ability to remove dust and allergens from a crevice

"The asthma & allergy friendly® certification mark is awarded only to products scientifically proven to meet the program's strict standards," said AAFA President and CEO Kenneth Mendez. "A certified vacuum can help reduce exposure to allergens and improve indoor air quality."

Choose a Vacuum Built for the Job
The Sanitaire® EON™ ALLERGEN vacuum is the first commercial upright vacuum to be certified asthma & allergy friendly®. It delivers an exceptional clean with a sealed HEPA system that is 99.97% effective at capturing particles. Plus, the vacuum received the highest level of Carpet & Rug Institute (CRI) certification, the CRI Gold Seal of Approval, for its high performance in soil removal, emissions and carpet appearance.

The EON™ ALLERGEN also is LEED qualified at just 68 dBA for quiet performance. It conveniently reaches allergens and pollutants in every crevice and corner with an onboard extension wand, upholstery brush and crevice tool.

– Brad Hoare, Senior Product Manager with Sanitaire

To learn more, visit sanitairecommercial.com/pages/asthma-and-allergies.


---
i Australasian Society of Clinical Immunology and Allergy Limited
ii Centers for Disease Control and Prevention