« Back to Branded Features.
SPONSORED
Look For Certifications To Guide Vacuum Selection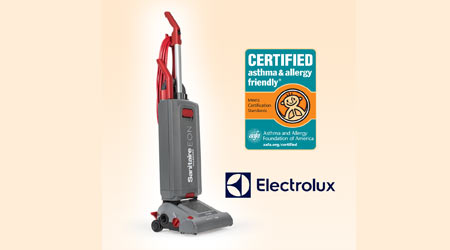 Selecting the right vacuum for cleaning office, school, healthcare or hospitality facilities can be a challenging experience. Third party certification programs from the Carpet and Rug Institute (CRI), LEED, and the Allergy and Asthma Foundation of America (AAFA) test performance to help you select machines that best fit your cleaning priorities and contribute to a healthier and more comfortable environment.

The CRI Seal of Approval Program offers three levels of certification for vacuums – gold, silver and bronze. Each level establishes a threshold for determining a vacuum's soil removal, dust containment and carpet preservation capabilities. A CRI gold machine, for example, removes more than 55 percent of soil from carpet and emits less than 35 micrograms of dust per cubic meter of air. A CRI silver-rated vacuum removes 50 percent or more of soil and emits less than 100 micrograms per cubic meter. To earn a bronze rating, a vacuum must remove 40 – 49 percent of soil and emit less than 100 micrograms of particles per cubic meter.

If your priority is to help a building achieve or maintain LEED Green Cleaning certification, a vacuum must hold a CRI gold rating and emit less than 70 decibels of operating sound.

To help the estimated 30 percent of people who suffer from allergies or asthma, the Allergy and Asthma Foundation of America (AAFA) offers the highest level of certification. An AAFA asthma & allergy friendly® vacuum must be CRI gold-certified and meet HEPA system standards. It also must pass a rigorous series of third-party laboratory tests proving it helps reduce exposure to allergens and irritants, provides increased environmental control and withstands routine cleaning and care.

The new Sanitaire EON™ ALLERGEN introduced this spring is the first commercial vacuum to earn asthma & allergy friendly certification. It removes more dust particles to create healthier environments, reducing absences of students, teachers and employees.

The EON ALLERGEN is built from the same platform as the CRI gold-rated EON™ QuietClean® upright introduced by Sanitaire in 2017. Both vacuums emit only 69 decibels of operating sound, meeting LEED Green Cleaning standards. They offer reliable, durable performance and easy, low-cost maintenance. Side-mounted compartments allow easy, tool-free removal of clogs and replacement of brushrolls. A quick-change pigtail power cord prevents downtime and repair costs for power cord replacement.

Visit Sanitaire to learn more.
All information listed in this section was submitted by Sanitaire®.
Trade Press Media Group Inc. cannot assume responsibility for errors of relevance,
fact or omission. The publisher does not endorse any products featured in this article.