« Back to Branded Features.
SPONSORED
ERP Innovation Makes It Easier Than Ever to Compete Online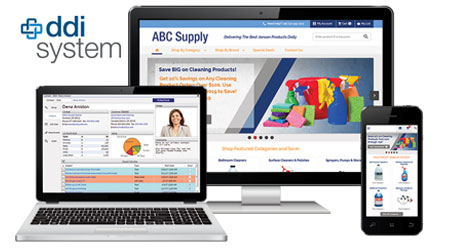 No technology is having a greater impact on wholesale distribution than eCommerce. Industrial buyers and consumers are adapting steady online purchase behavior, driven by the wealth of information, effective search and mobile devices. Evolving distributor strategies must accommodate this online shift, supporting web-savvy customers with the option to research, compare and purchase with a click, as well as via in-store purchases.

Next-generation, connected eCommerce solutions offer your business a way to advance your operations to combat digital disruption. A tightly integrated system that works in conjunction with your ERP ensures responsive access and up-to-date information for fast-paced distributors.

There are several good reasons for having an ERP-connected eCommerce solution. Most important is generating more revenue through your online channel and optimizing your operational costs.

SAVE TIME ACROSS YOUR OPERATIONS
Tight integration between your ERP and eCommerce solution eliminates the cost of multiple product databases and duplicate data entry-which means fewer errors, better accuracy, and lower overall operational costs.

The task of manually decimating inventory across systems by hand, verifying shipping addresses are entered correctly and ensuring relevant product details are accurate, can have a serious impact on customer service standards. With a connected system, users are no longer required to hand-key sales orders into the ERP or update product information in Excel and upload to webstores.

As a result, your customers experience accurate online inventory levels, consistent product information, and transparent order status and delivery. Ensuring your business has a connected eCommerce solution drives a competitive advantage, allowing even small businesses to compete and provide top-tier customer service.


DELIVER CONTENT THAT COMPELS BUYERS
The best way to support sales online is through effective product content. Product content is the data that drives your eCommerce business — it's the information about every product you sell online. Great product data includes detailed, rich, and industry-specific information about the individual products in a distributor's lineup. Having well - structured product content allows you to leverage that data for tools like on-site search, navigation and filtering, and merchandising tools. Ultimately, the strength of your product content directly correlates to your buyer's experience.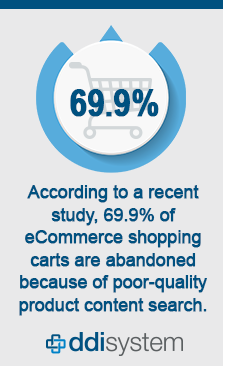 Access to the right information at the right time becomes critical for your customers to make fast decisions. A lack of content can have an adverse effect on customer retention. Indirectly, it tells customers and potential customers valuable time they are spending on search and on your site is not truly valuable at all.

High-performing keyword search, highly relevant attribute filtering, and persuasive product detail pages all contribute to B2B eCommerce success. Distributors who allow their customers to access a detailed product catalog with unique descriptions, visuals of high-quality images and an easily-navigated interface, tend to have higher retention and re-order rates. Each of these tools can be powered by well- organized product content. Your ERP company can suggest preferred content providers with whom they have worked extensively. Relying on content from those partners ensures you effectively captivate buyers with pertinent content for every lifecycle stage.

ELEVATE YOUR BRAND PRESENCE
You've spent time and money developing your brand and robust product catalog. Using today's modern-day tools, distributors now have full control over the design and functionality of their B2B/B2C storefronts. Easy-to-use templates provide an array of options to create custom views with responsive design themes for any device. In addition, advanced functionality such as image zoom, quick hover, and displayed reviews give buyers the rich details they seek. This customized experience drives the average sale price and motivates buyers to consistently rely on your business when searching for products.

While the look and feel of your site should reflect your company's brand, access to products must be simple. Tools such as configurable search, keyword, suggested items, and automatic lists of popular products help distributors ensure their products can be easily found and become necessary to optimize the buying experience.

PROVIDE SELF-SERVICE ACCOUNT MANAGEMENT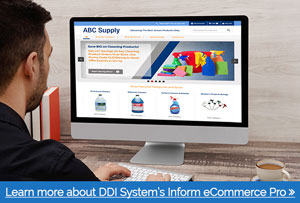 For many distributors, adding more self-service web tools along with better personalization is the key to generating more new and repeat eCommerce sales. As a result, customer self-service should be a hallmark of your eCommerce strategy—giving customers 24/7 visibility and control.

Flexible buying experiences give customers the advantage of accessing information when they want to, providing a convenient way to re-order, add cross-sell items and manage accounts.

For distributors, a branded portal allows you to give your customers a personalized experience, based on customer login credentials. Providing this level of control allows distributors to only display the information you want them to see. For example, customer-specific pricing, inventory levels, and products can easily be turned on or off with a quick flip of a switch. In addition, managers can set permissions limiting ordering capabilities by role.

Customer service portals provide an immense cost-savings opportunity as well. By allowing customers to manage accounts and submit order requests, distributors alleviate tasks that would have fallen on staff members to complete manually.

ABOUT DDI SYSTEM
DDI System drives operational excellence and improves productivity with a fresh and innovative approach to ERP software. For more than 25 years, DDI's Inform ERP has powered distribution success with the strongest operational workflows, financial management, decision-driving analytics and order management in the market. Coupled with advanced capabilities for multi-location warehouse management and connected eCommerce, Inform helps Jansan, Paper & Packaging distributors accelerate sales with modern-day tools that combat disruptors and allow distributors to stand out as preferred suppliers.

To learn more about DDI System's end-to-end distribution software and the next-generation of Inform eCommerce, visit: ddisystem.com/ecommerce