« Back to Branded Features.
SPONSORED
Combating the Industry Turnover Rate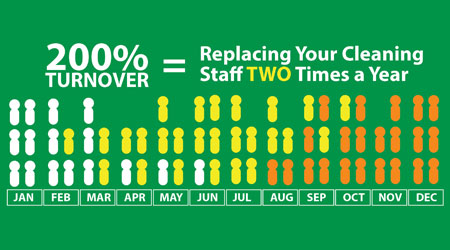 It's a problem every facility manager has to face. You bring on new cleaning staff, get them trained, and then all too soon they've moved on to another job. If this has happened to you—and even happened often—then you're not alone. Industry estimates put the turnover rate in the cleaning industry at about 200%. That means that, on average, managers have replaced their entire staff twice in one year. Considering that it costs an estimated $1,000 per new employee to recruit, train and orientate them, this can hit department budgets hard, too.

So what can you do to combat this issue? There are three areas where it pays to take a good, hard look at your current policies and programs just to see if there are areas you can expand or improve upon.

Hiring
When you're hiring a new employee, what do you consider the most important quality to look for?

A. Experience
B. Attitude
C. Knowledge

In a recent informal Twitter poll, we polled customers about this same question. Here were the results: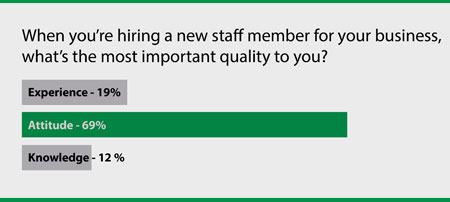 The majority answered "Attitude." The truth is, this has long been a topic of debate. But the numbers back up the majority here. Only 19 percent of new hires succeed in the long run. For those that don't make it, a whopping 89 percent lose their job because of their attitude or personality. They aren't coachable, aren't motivated, or have a bad temperament.1 This really highlights the importance of looking at attitude as a key driver in hiring.

That isn't to say that experience or knowledge isn't important. These are definitely factors to consider. Just consider not making it the key decision factor.

Training
Think through the experience a new employee has when they first join your company. Maybe even think about your own experience. Do you have a plan in place for new employees? A set of steps that every new employee must go through? This can go a very long way in making them feel comfortable with the work they're doing. Make sure they're not afraid to ask questions when they have them.

A mixture of mentoring and on the job training is helpful, especially in our industry. This works even better if you have cleaning products that make training easy, like EnvirOx's Absolute Cleaning System. Our Train in Ten™ training system is built on colors and numbers, using pictographs and translated text to overcome language barriers. There are a wide variety of wall charts available, from general cleaning guides to those made specifically for retail environments, classrooms, stadiums, convenience stores and more!



Above and beyond the training materials provided, EnvirOx's Absolute Cleaning System also has other benefits that make training easy. 95% of all your cleaning needs are taken care of with just one product, which really speeds up the training process. This one product, H2Orange2 Hyper-Concentrate 112, is safe to use on any water-safe surface, making it very difficult for a new employee to damage any surfaces with proper product usage. With the proper cleaning product system in place, you can provide excellent training to your staff without adding extra time and headache.

Retention & Morale
The final area to examine is what you're doing to keep the great employees that you've hired. Recognize outstanding work, encourage feedback, promote from within, and be sure your wages and benefits are competitive. Recently, our industry just celebrated Thank Your Cleaner Day on October 17. This is a great chance to make sure your staff feels appreciated. Also, consider activities the staff can do together to strengthen their bonds with one another. This could be a bowling outing, trying an escape room, or happy hour at a local bar or restaurant.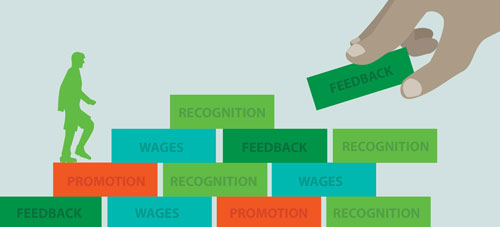 Investing this time and money is worth it. Not only will you better keep an experienced, efficient staff, but the cost savings in the long-run can be huge. Remember, for every employee you retain, that's another $1,000 you've saved not hiring and training their replacement. At the end of the day, employees just want to feel valued, and that what they do makes a difference.

If you're ready to make training easier, EnvirOx is here to help. Simplify your training and cleaning. You can sign up for a no-risk trial of the Absolute Cleaning System today.

1. Toren, A. (2017). Hiring for Attitude Over Experience: What the Numbers Show. Business.com. Retrieved from https://www.business.com/articles/hiring-for-attitude-over-experience-what-the-numbers-show/