« Back to Branded Features.
SPONSORED
Caregivers Expect Sanitary Baby Changing Stations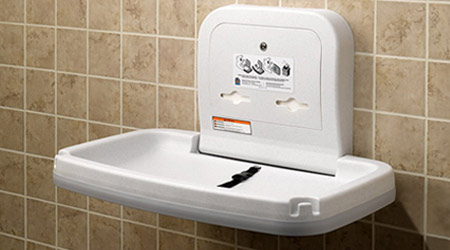 In a recent survey of parents, almost 73% of respondents stated that they are more likely to visit businesses with baby changing stations, and 86% said that they have used the baby changing stations available in public establishments. Parent's expectations for child accommodation products continue to increase. Are your restrooms ready to meet the needs of families using them?
Many caregivers are taking to social media channels to build awareness regarding concerns about the cleanliness of the product, or the lack of baby changing stations in public restrooms. Some have posted photos of their babies being changed on unsanitary bathroom floors or on baby changing stations that are unsafe and/or unsanitary. Although many baby changing stations are manufactured with antimicrobial product protection, it is still important for these products to undergo daily cleaning and disinfecting. Over 25% of parents surveyed expressed a desire for cleaner baby changing stations, disinfecting wipes or liners/table covers.
Maintenance Maintains Loyalty

With an increased expectation to have baby changing stations available for use in both men's and women's restrooms, establishments have a greater responsibility to maintain their childcare accommodations by keeping them clean and safe to use. Providing accommodations is just the first step - it is important that you care for the products you put in place. Replacement parts, refresh kits and the availability of sanitary bed liners all are critical elements for satisfying parent preferences.
Baby changing stations should be cleaned throughout the day, based on usage. It is important to remember that babies and young children are more sensitive than adults are to chemicals and other irritants.
Cleaning professionals should follow specific procedures for optimal results:
• Clean plastic surfaces separately before disinfecting them. Disinfectants are more effective on bacteria with the unit clean of soil and other impurities.
• Apply disinfectants after plastic surfaces have been thoroughly cleaned. Disinfectants require moisture to eradicate bacteria. Apply disinfectants via a spray bottle or other appropriate applicator to be effective. Disinfectants have dwell times of 7 - 10 minutes.
• Use a clean nylon brush for loosening and removing soil on our textured surfaces.
Once you are finished cleaning/disinfecting any baby changing station ensure the right quality assurance has been achieved. Look for the following assurance guidelines:
• Surfaces should feel smooth and be free of visible soil.
• There should be no odors.
• The unit should be properly secured to the wall.
• The adjoining wall and floor below the BCS should be free of visible soil.

It is important for businesses to properly clean their amenities and be aware of the experiences their patrons are having so they can be prepared to make adjustments to keep them coming back.

Legislation Leads the Way
In addition to caregivers taking their concerns to social media, they also are turning to their government officials for help. Federal, state and local legislation are leading to new laws for baby changing stations in public restrooms. In 2016, the BABIES Act was passed, requiring male and female restrooms in public buildings to be equipped with baby changing stations. Since its enactment, legislation at the state and local level has made progress toward providing safe and well-maintained baby changing stations in both men's and women's restrooms.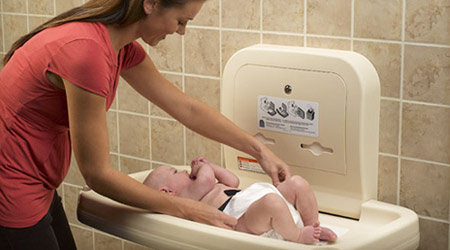 With ongoing legislative developments, establishments need to focus on implementing or upgrading baby changing stations in both men's and women's restrooms. Decision-makers should focus on being proactive - make sure that your restrooms include the right childcare accommodations prior to legislation being passed in order to remain compliant and to maintain loyalty with your customers.

Surveys show that parents are more loyal, visit more often, and spend more time and money at establishments with safe and clean child accommodation amenities. Koala Kare has been helping public establishments equip their operations to accommodate the needs of caregivers and their children for over 25 years. Contact a local sales representative today and get assistance from the world's leading provider of safe and innovative commercial childcare products. Learn more at www.koalabear.com.