Product Watch
Xcelenté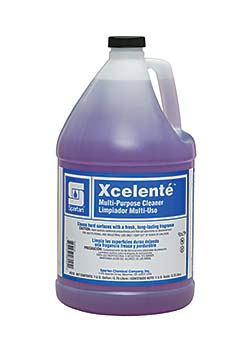 Spartan Chemical Co. Inc.
Website
|
Company Information
|
Product Releases
Product Type:
Multi-Surface Cleaner
Xcelenté is a multi-purpose, hard surface cleaner. The phosphate-free formula can be used on floors and other surfaces where a bright, shiny, streak-free finish is desired. With a long-lasting, fragrant lavender scent, the cleaner creates a positive impression with building residents and visitors. Xcelenté complies with the requirements of GS-37, the Green Seal Standard for industrial and institutional cleaners. Products obtaining this certification have reduced human and aquatic toxicity and reduced smog production potential.
Products for the Building Service Contractor, In-House Custodial Manager & Jan/San Distributor