Product Watch
sponsored
Optiqo Hygiene Monitor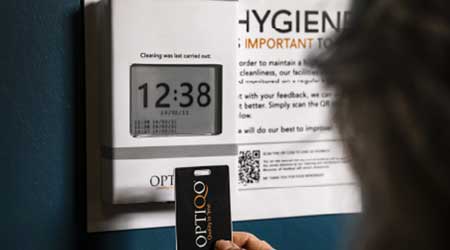 Optiqo Hygiene Monitor
Website
|
Company Information
|
Product Releases
Make Your Cleaning and Service Delivery Visible and Accurate!
The public will have expectations regarding whether your facilities are truly clean and monitored on a regular basis. The paper log on the back of the door is no longer an option.
Optiqo's advanced Qlvr Box enables companies to proactively manage and validate cleaning frequencies and share this information with the general public via a digital representation.
Moreover, the Optiqo Qlvr Box provides a customer feedback solution whereby, clients can advise you of any anomalies that may occur at any location in real time; all through the use of their own mobile device!
Traffic Sensoring - Stop Assuming Your Cleaning Frequencies & Measure Them!
The Qlvr Box can measure visitor flows, customer satisfaction feedback and suggest cleaning patterns based on real-time traffic data instead of traditional assumed frequencies. Moreover, by establishing flow thresholds, the Qlvr Box can submit work order notifications immediately. This can enhance your focus on areas where cleaning is needed and increase customer satisfaction; effectively managing your cleaning resources and minimizing unnecessary costs.
Some of our features include:
IoT Connected: Integrated 4G connection for seamless connectivity
E-paper display: "Low-energy consumption" up to 3 years battery time
QR Code and Work Order Integration: Gain insightful feedback via visitor site experience
Traffic and Threshold Monitoring: Identify and adjust to traffic patterns per unique location
Real-time KPI Dashboard: Access actionable KPI data reports via our live web-based portal
Easy to Customize: Device and backplate can be designed along company requirements
Products for the Building Service Contractor, In-House Custodial Manager & Jan/San Distributor