Product Watch
sponsored
Defend-It Antimicrobial Mops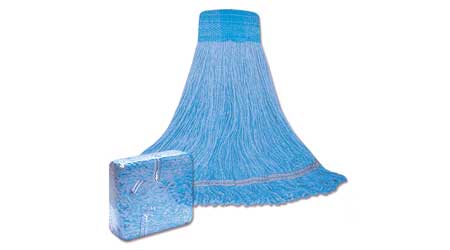 ABCO Products, Inc.
Website
|
Company Information
|
Product Releases
ABCO Products introduces Defend-It Anti-microbial Mops; a complete category line of anti-microbial wet mops for everyday floor cleaning.
Product range includes; Cut-ends mops, Color-coded Looped mops and "touch free option" Looped mops with threaded connector.
Mops of any type from any manufacturer; once used, then hung moist, in many cases will provide an environment in which bacteria can flourish.
The Defend-It anti-bacterial additive; saturated in the mop fibers during the manufacturing process at ABCO Products, will inhibit bacterial growth, which in these times of high alert, support cleaning measures in place to minimize customer fears on patronizing a facility.
Make ABCO Products Defend-It Anti-microbial Mops as part of your Facility Maintenance Program
Products for the Building Service Contractor, In-House Custodial Manager & Jan/San Distributor