Winners Announced In Happy Hands Dispenser Design Contest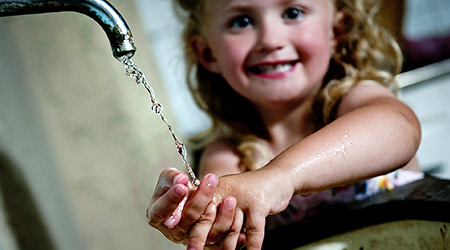 After receiving more than 3,000 votes from across the nation, Deb Group announced the respective elementary, middle and high school winners of the official Happy Hands Dispenser Design Contest. The dispenser design contest was part of a larger campaign to educate and promote hand hygiene in schools.

"We're thrilled to see the excitement around these student designs and hand hygiene," said Isabelle Faivre, Vice President of Marketing, Deb Group. "The artwork on the soap dispensers will serve as a reminder about the important role clean hands play in keeping everyone at school healthy. Meanwhile, teachers can continue to utilize our activity books and posters throughout the school year."

The 2017 Deb Group Happy Hands Dispenser Design Contest winners include:

Elementary School:
Delani B., Second Grade, Dieck Elementary, Swartz Creek, MI

Middle School:
Laney P., Sixth Grade, Newport Middle School, Newport, OR

High School:
Margaret H., Ninth Grade, Alliance High School, Alliance, NE

"This award is such an honor for our students and school, and we're ecstatic that the community rallied around Delani to support her creativity," said Eureka McCormick, art teacher at Dieck Elementary. "This was such a fun contest to participate in and it served as the perfect way to show students that hand washing can be fun."

The student designs with the most votes in each category will each receive a $200 gift card. Each winning students' school will also receive a $500 donation. The winning designs will be custom printed for free on up-to 500 manual Deb soap/sanitizer dispensers for use at the students' school.

"The Happy Hands Contest allowed our students to engage in the standard skills they need, like creativity," said Erin Price, teacher, Newport Middle School. "This was for a very good cause - as teachers and parents we know the health of students is important and making them aware of the importance of hand washing is necessary."

Students submitted their designs online in the fall and five finalists in each category were announced in January. Submissions were evaluated for visual appeal, overall design, creativity and unique design elements. The public voted for their favorites during the month of February.

"I'm really excited that Deb Group did this contest!" said Kathy Brock, teacher, Alliance High School. "It was a great opportunity for all of the students."

To view the winning designs or sign up for next year's Happy Hands contest, visit www.debgroup.com/us/happy-hands.