USGBC Releases Annual Top 10 States for LEED Green Building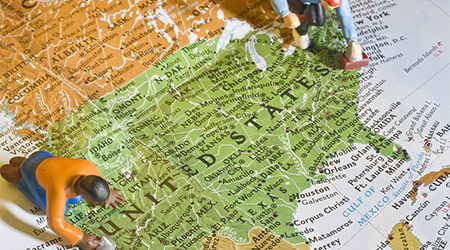 USGBC announced the Top 10 States for LEED, an annual ranking that highlights states throughout the United States that made significant strides in sustainable building design, construction and transformation over the past year. LEED is the world's most widely used and recognized green building rating system.

Topping the list is Massachusetts, which moved from third to first place, with a total of 136 LEED-certified projects representing 3.73 square feet of certified space per resident.

"LEED guides our buildings, cities, communities and neighborhoods to become more resource- and energy-efficient, healthier for occupants and more competitive in the marketplace," said Mahesh Ramanujam, president and CEO of USGBC. "The green building movement continues to evolve with advancements in technology, benchmarking and transparency, and the states on this list are leading the way toward a more sustainable future."

Now in its seventh year, the ranking assesses the total square feet of LEED-certified space per resident based on U.S. Census data and includes commercial and institutional green building projects certified during 2016. Illinois and Colorado are the only two states to have made the list every year since 2010, and New York has returned to the rankings after a one-year hiatus.

A continued presence on the list from Maryland and Virginia has reaffirmed the mid-Atlantic region, which includes Washington, D.C., as the center of green building. While Washington, D.C., is not included in the list of top states, due to its status as a federal territory, it is notable for its 29.04 square feet of LEED space per resident, more than any individual state.

This year's list has the highest average (2.55 square feet) per capita of LEED-certified space among the top 10 states since 2010. Four of the nine states included in the 2015 list increased the square feet of space they certified per resident in 2016 (Massachusetts, Colorado, California and Virginia). The full ranking is as follows:

2016 Top 10 States for LEED

Rank State Certified Gross Square Footage (GSF) Per-capita Certified GSF Total No. Projects
1 MA* 24,398,765 3.73 136
2 CO* 15,921,457 3.17 92
3 IL* 36,188,485 2.82 151
4 NY 48,405,204 2.5 211
5 CA* 88,891,641 2.39 632
6 NV* 6,397,602 2.37 22
7 MD* 13,426,623 2.33 104
8 VA* 18,444,309 2.31 155
9 WA* 15,103,478 2.25 105
10 TX* 41,942,393 1.67 211
** DC 17,476,447 29.04 120

*Included in 2015 Top 10 States for LEED list
**Washington, D.C., is not ranked because it is a federal district, not a state.

Notable projects certified in 2016's Top 10 States for LEED include:

• Massachusetts: Boston Convention and Exhibition Center, the location of Greenbuild 2017; LEED Silver
• Colorado: Riverside Library and Cultural Center; LEED Gold
• Illinois: Chiaravalle Montessori School, North Wing; LEED Platinum
• New York: World Trade Center Tower One; LEED Gold
• California: Anaheim Regional Transportation Intermodal Center; LEED Platinum
• Nevada: Las Vegas Corporate Center Building 20 LVCC; LEED Gold
• Maryland: Parks and People at Auchentoroly Terrace; LEED Platinum
• Virginia: Woodrow Wilson Library; LEED Gold
• Washington: Bainbridge Island Museum of Art; LEED Gold
• Texas: Baylor Medical Waxahachie; LEED Silver

Collectively, 1,819 commercial and institutional projects achieved LEED certification in the 10 states within the Top 10 LEED list in 2016, representing 309.12 million gross square feet of real estate. And across the U.S., 3,366 projects were LEED-certified in 2016, representing 470.39 million square feet.

In 2016, LEED for Building Operations and Maintenance was once again the most popular rating system within the Top 10 States, representing 53 percent of the total square footage certified; LEED for Building Design and Construction was the second most popular rating system, representing 42 percent of the square footage certified; and LEED for Interior Design and Construction was the third most popular rating system, representing 5 percent of total square footage certified.
Disclaimer: Please note that Facebook comments are posted through Facebook and cannot be approved, edited or declined by CleanLink.com. The opinions expressed in Facebook comments do not necessarily reflect those of CleanLink.com or its staff. To find out more about Facebook commenting please read the Conversation Guidelines.