Triple S Names Executive Development Graduates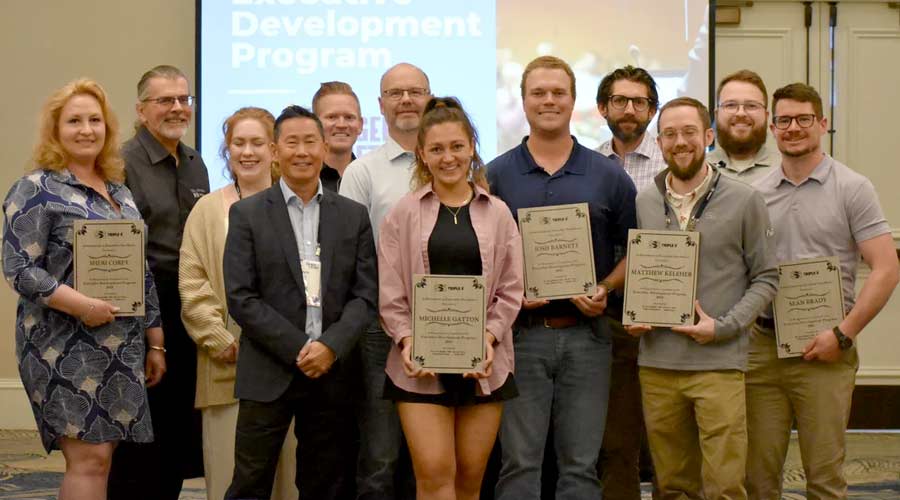 Triple S announced that a new cohort of distributor professionals received Awards of Executive Excellence for successfully completing the requirements of the Triple S Executive Development Program. The Executive Development Program is a hands-on educational program specifically designed for Member-owners, leaders and emerging leaders of Triple S Member companies.
"I want to thank and congratulate each of the recipients for their commitment, drive and friendship in completing this program. Our industry is dominated by family businesses and ensuring that they continue to grow is essential. The goal of this program is to provide the leaders of our Member companies with the tools to thrive in the next decade, and through a small class size to build a community that supports one another in the future", says Kevin Chow, president.
Awards of Executive Excellence - Cohort V
• Matt Dawson, Academy Paper & Janitorial Supply
• Sean Brady, Allston Supply Company, Inc.
• Keith Cohen, Allston Supply Company, Inc.
• Jeremy Menegay, Friendly Wholesale
• Josh Barnett, House of Chemicals, Inc.
• Michelle Gatton, House of Chemicals, Inc.
• Sheri Corey, I. Janvey & Sons, Inc.
• Austin Goode, Janitorial Supply, Inc.
• David Oliver, Oliver Distributing Company
• Gianna Moscillo, Triple S
• Matthew Keleher, Triple S
Program Sponsors

The strategic support from our supplier-partners made this educational program possible. Triple S thanked the following suppliers for sharing in the costs of the Executive Development Program:
• Berry Global
• Essendant, Inc.
• GOJO, Inc.
• Marcal Paper
• Royalty Distribution
• Supply Source Enterprises
• Vectair Systems, Inc.