Touchless Handwashing Station Earns Girl Scouts Award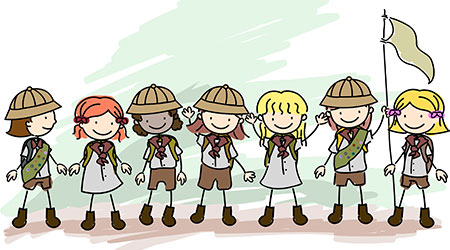 Girl Scouts earn a Bronze Award by spending at least 20 hours to develop something that will make a lasting difference. With the COVID-19 pandemic still raging, two junior-level Girl Scouts in an Ohio Troop decided to earn their award by creating a handwashing station that doesn't have to be touched to operate.
Inspired by the handwashing station they saw at a store, Josie Jeffrey and Annalyn Warner decided they wanted to make one themselves, reports The Marietta Times. A local nature preserve gladly accepted the girls' offer to build a station for the preserve, which they learned how to make by watching YouTube videos.
After receiving some assistance from adults, the children developed a station comprised of wood, the top of an old sink, a door, spigot, buckets and a bike break. According to the Times, the station works by placing water in one of the buckets, which is then released when a person uses their knee to press the bike break. Then the person washing his or her uses the hand soap that is provided and stops washing by taking their knee off of the brakes.
The relationship between kids and improved handwashing practices was growing stronger ever before the pandemic. For example, a school nurse in Arkansas used a fun exercise in February just to show kids how nasty their hands can become after touching surfaces. Read more on that here.