Top Trends In The Floor Scrubber Battery Market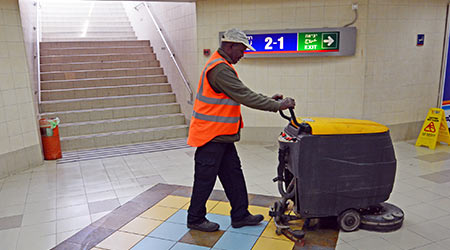 Technavio's latest report on the global floor scrubber battery market provides an analysis of the most important trends expected to impact the market outlook from 2017-2021, according to an article on the Business Wire website. Technavio, a technology research and advisory company, defines an emerging trend as a factor that has the potential to significantly impact the market and contribute to its growth or decline.

The global floor scrubber battery market is expected to grow moderately during the forecast period. New advances such as eco-friendly floor scrubbers are expected to boost the market. The diversification of technology has increased the adoption of carpet cleaning machines in the commercial and residential sectors.

The market for industrial floor cleaners will witness a stable growth during the forecast period due to the sprouting up of end-user segments. Industrial floor scrubber is one of the fastest growing segments of the floor cleaner market. India, China, and South Korea contribute a major portion to the growth in the region. The growing rates of urbanization will drive the market for floor cleaners.

The top three emerging trends driving the global floor scrubber battery market are:
• Advances in floor scrubber machines
• Growing trend of green manufacturing
• Increasing end-user segments

Advances in floor scrubber machines
"Floor cleaning manufacturers are constantly upgrading floor cleaning machines, owing to the tough competition in the market. An increasing number of floor-care machines now include built-in Wi-Fi to provide automated reporting of the battery, water and chemical status, and machine conditions.

This allows consumers to remotely monitor the equipment's productivity rates, chemical usage, and maintenance needs," says Thanikachalam Chandrasekaran, a lead analyst at Technavio for research on energy storage.

Other innovations are machine location tracking, diagnostics, usage, and performance data. Size reduction and improved mobility have become highly desirable. These improvements were brought to life in new floor scrubber machines, which are boosting the global floor scrubber battery market.

Growing trend of green manufacturing
"The concerns regarding greenhouse gas emission have increased worldwide, owing to the rapid increase in pollution due to overpopulation. There are numerous factors through which GHG emissions are increasing worldwide.

People are moving toward eco-friendly technologies for different purposes, such as solar panels for electricity, battery energy storage for storing the energy during daylight, and others," adds Thanikachalam.

Floor scrubber and floor cleaning equipment manufacturers are also focusing on manufacturing eco-friendly floor cleaning machines. Green and sustainable cleaning methodologies are significant trends in the industrial floor cleaner market.

These methods reduce the carbon footprint on the environment and are cost effective as they have led to significant savings of resources such as energy, water, chemicals, and waste.

Click here for the full article.