Tips To Reducing Facility Waste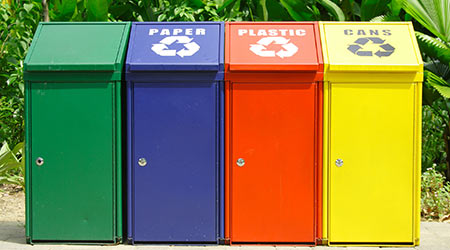 The U.S. Environmental Protection Agency reports that each person creates an average of 4.4 pounds of waste per day. According to reports from GreenBiz, this is nearly double what was generated in the early 1960s, and it results in a lot of work for facility staff.

To reduce the environmental impact facilities have on the environment, and to elevate some of the work from custodial staffs, businesses are making some changes to their waste management programs.

At the Atlanta International Airport, sustainability plans included a commitment to a 90 percent reduction in waste between 2011 and 2020. The Environmental Leader reported that in 2013, airport officials organized the community of businesses that operate on the premises, and began working on waste reduction efforts.

Although getting a complete waste reduction and recycling effort in place has been challenging, the airport has made strides by soliciting 30 acres of property for a recycling and composting facility. According to reports, "the onsite recycling facility will achieve efficiencies by providing the means to recycle waste, reducing delivery costs, and subsequently reducing the amount of energy needed to transport recyclable waste to a processing facility."

Adding composting to waste management is being considered by many facilities. The reason is because compost is heavy, and therefore costly for facilities to remove. According to GreenBiz, the Seattle Mariners transitioned to either compostable or recyclable plates, forks, cups and napkins, and saved $114,000 in 2013 as a result.

Facilities are cutting back on waste in other ways, too. Many have eliminated bottled water, replacing it with bottle filling stations. More businesses are also cutting back on paper usage and the packaging used in shipping.

For even more ideas on how to cut back on business waste, click here.
Disclaimer: Please note that Facebook comments are posted through Facebook and cannot be approved, edited or declined by CleanLink.com. The opinions expressed in Facebook comments do not necessarily reflect those of CleanLink.com or its staff. To find out more about Facebook commenting please read the Conversation Guidelines.