Tips To Keeping Food Services Areas Clean This Summer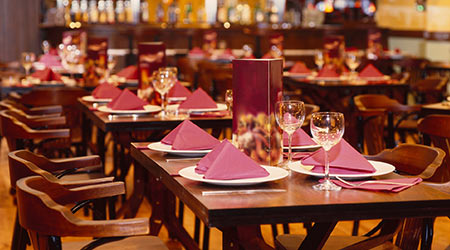 Now that temperatures are on the rise, restaurants have opened their patio and rooftop areas, attracting customers eager for a fun dining experience. To help restaurants get ready for increased summer traffic, Cintas Corporation shares eight tips that will help restaurants gain a raving patio and rooftop review.

"After being cooped up all winter, people want to sit back, relax and enjoy the summer sun with fresh food, whether it's at their favorite restaurant's patio or at a buzzing new rooftop bar," said John Engel, Director of Marketing, Cintas. "Just as restaurants prepare their menu for the summer, they must also prepare their outdoor dining area to provide guests with a memorable experience."

Restaurants can improve their customers' outdoor dining experience and keep patrons returning by following these simple steps:

1. Spruce up entryways and awnings. When approaching a restaurant, the first things customers often see are the entryway and awnings, but these areas can easily get dirty after a long winter or a stormy summer night. Dirt, debris, leaves and even cigarette butts littering the walkup area of a restaurant can send the wrong message to customers, so make sure to tidy up these areas before and after every shift.

2. Keep glass shiny. Windows, doors, display cases and counters should always be kept clean and fingerprint-free. If glass surfaces have any dings or cracks, address the issue quickly so it doesn't spread or shatter. Remind workers to check on these areas throughout the day and test for stress on any glass surfaces.

3. Keep outdoor dining areas clean. When people dine outside, they expect the patio or rooftop area to be spotless. Check for spider webs, bugs, leaves and other critters or litter hanging around outdoor tables, umbrellas and doorways.

4. Deep clean carpets. While most outdoor dining areas don't have carpet, indoor carpet often sees the worst of winter – from snow to dirt to salt – and dirty floors can project a poor image and create bad odors. While the patio fills up, make sure customers who dine inside receive a great experience as well.

5. Implement a matting program. Keep the outside, outside. Matting traps dirt and debris at the door, stopping it from entering a facility. Matting also stops puddles from accumulating after summer storms and absorbs any water to reduce mildew odors. Certain matting providers offer custom options, allowing restaurants new ways to brand themselves in the summer and throughout the year.

6. Light up the night. Make sure all outdoor lighting is working properly and that it's free of dust. Additionally, check rafters and shelves for dust that could potentially land in a customer's dish.

7. Prepare for summer storms. While summer can bring some of the best weather, it can also serve up some disastrous storms. Prepare for emergencies like power outages or flooding by updating the emergency preparedness plan. Keep these plans in easy-to-access areas and prepare staff accordingly.

8. Prepare the plumbing. After a long winter, residue can easily build up inside of plumbing drains, resulting in expensive clogs. Check plumbing regularly to help prevent drain backups in the kitchen and restroom. One way to prevent a backup from happening – particularly in older buildings or high traffic facilities – is to have them jetted to eliminate accumulated residue and potential clogs.
Disclaimer: Please note that Facebook comments are posted through Facebook and cannot be approved, edited or declined by CleanLink.com. The opinions expressed in Facebook comments do not necessarily reflect those of CleanLink.com or its staff. To find out more about Facebook commenting please read the Conversation Guidelines.