TEAM Software Wins Small Business Award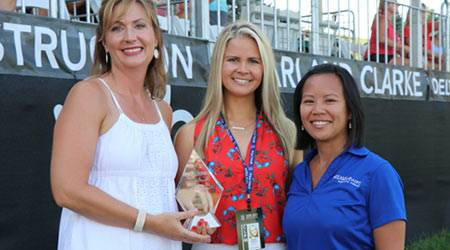 TEAM Software, Inc. was named the winner of the Web.com 2017 Small Business of the Tournament Award for Nebraska. Jill Davie, TEAM Software Senior Vice President of Client Experience, and Pasha Ostby, TEAM Software Human Resources Manager, were recognized on behalf of TEAM at the Pinnacle Bank Championship trophy presentation on July 23, 2017.

The award honors one small business from each U.S. Web.com Tour tournament location for its community involvement and relationship with its local tournament, which for Nebraska was the Pinnacle Bank Championship held July 17-23, 2017, at The Club at Indian Creek. TEAM was nominated for the award by TeamMates, a school-based mentoring program and this year's charity partner of the Pinnacle Bank Championship. TEAM has supported TeamMates since 2013 and currently has several employees actively mentoring students in the Omaha metro area.

"This award is a huge honor for us. As an employee-owned company, one of the key characteristics that brings us together is our desire to do more for the community in which we live and work. We do that by giving our employee owners the opportunity to support the TeamMates program during the workday," said Davie.

In December, the story of TEAM Software will be featured in an online video gallery alongside Small Business of the Tournament Award recipients from each U.S. Web.com Tour tournament location. Viewers will be invited to watch and vote for their favorite; the business with the most votes will win the 2017 Web.com Small Business of the Tour Award and $25,000 in Web.com products and services — a value 10 times the average annual media spend for small businesses.