TEAM Software Wins Four AMA Omaha Awards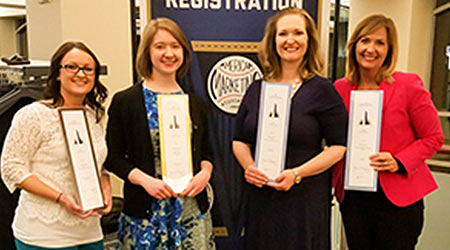 TEAM Software Inc. received four marketing industry awards of merit at the 2017 American Marketing Association (AMA) Omaha Pinnacle Awards ceremony at the Mike & Josie Harper Center at Creighton University on Thursday, April 26. The awards included:
Platinum: Public Relations, Small Business — TEAM Client Conference 2016
Platinum: Video, Small Business — Extreme Makeover: eHub Edition
Gold: Total Marketing Campaign, Small Business — TEAM Client Conference 2016
Bronze: Total Marketing Campaign, Small Business — eHub Renovation Campaign

"We're very honored to be recognized for the work we have done over the past year," said TEAM Software Marketing and Communications Manager Amanda Sullivan. "Our small, efficient team works very hard to promote TEAM's brand and message to the marketplace, both locally and nationally. The campaigns and events that were recognized were all client-focused, and that speaks to the commitment TEAM has to keep customers our top priority."

The Pinnacle Awards are an opportunity for local organizations to showcase their most successful marketing campaigns. Awards are judged based off metrics and measurable tactics, and the 2017 Pinnacle Awards judging was completed by members of the AMA DC Chapter. Award categories are Pinnacle and awards of merit (platinum, gold, silver and bronze).

AMA Omaha is the local chapter of the American Marketing Association, the world's largest nonprofit marketing association with more than 30,000 members. For almost 60 years, AMA Omaha has been the leading network for local marketing professionals and continues to serve the Omaha community to advance the practice of marketing by providing a forum for discussion and feedback on key issues impacting marketing professionals.