Survey: Germiest Areas Within Workplaces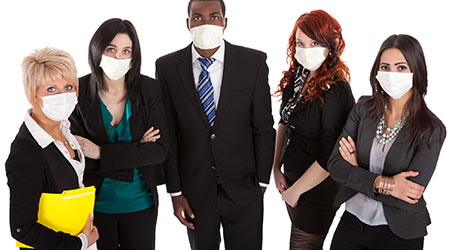 Nearly 75 percent of Tri-State area workers are wrong in their perceptions about the most vital location in the workplace to keep clean, according to a press release. In fact, six out of 10 workers responding to a recent independent survey conducted by commercial cleaning franchise company OpenWorks, don't know the germiest place in the office.

The survey was engineered to mark the launch of the new Newark-based OpenWorks regional office, which will oversee a territory covering New Jersey, New York and parts of Pennsylvania.

"We believe it's important for everyone at a workplace to know where the germs are," said OpenWorks CEO, Eric Roudi. "A cleaner workplace is a more productive workplace," he added.

Three out of four workers surveyed in the July 2017 poll stated they believe the bathroom is the most vital place to keep clean.

Although it's necessary to clean a workplace bathroom daily, a desk is the location in most offices where germs frolic and multiply exponentially with impunity.

Only 40 percent of survey participants responded that a computer keyboard is the most important part of the office to keep clean, and yet that's not even the germiest place. No one guessed that it's actually the phone.

The phone on an office desk can harbor more than 25,000 germs per square inch, and your computer keyboard can provide luxury living for another 3,200 germs per square inch, according to statistics in a recent LinkedIn article "Jaw Dropping Statistics about Germs You Need to Know."

The toilet seat is home to a paltry 49 germs per square inch, in comparison.

"Germs are everywhere in the office environment, and it's critical to keep them under control," said Steffani Azcona, the new Regional Sales Director for the OpenWorks Tri-State area, which includes DaVita dialysis center locations.

Roudi added, "We believe it was important to conduct the survey to show that there are a lot of misconceptions about germs in the office."

Survey respondents also mentioned the kitchen sink, the office refrigerator, chair handles, faucets and trash areas as key areas where germs can fester.

"The survey respondents were not entirely incorrect about places around the office where it's important to clean – most of them were just wrong about the places where most of the germs are," Azcona said.