Study: Four Main Causes Of Restroom Odors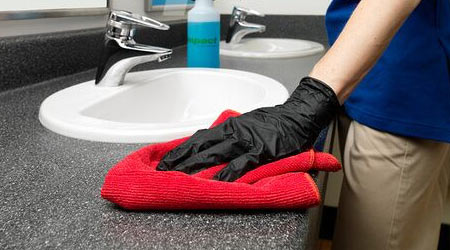 Supplied by Impact Products.
An 18-month study conducted by the University of Toledo and Impact Products, a manufacturer of innovative tools and products for the professional cleaning and building industries, reveals that there are four core areas in a restroom from which most restroom odors emanate.

The findings were based on field studies, air testing, and interviews with restroom users, custodial workers, and janitorial managers. According to the research, the following are the root causes and primary locations of restroom odor:

Missing the target: Uric acid, as a result of men urinating on floors, walls, or their shoes, causes bacteria buildup, which produces odors.

Splashes: Even when the target has been successfully met, uric acid may still splatter on surrounding surfaces; most impacted are adjacent partitions.

Urine in grout areas: Found in both men's and women's restrooms, urine is absorbed into grout; as the uric acid in the urine builds up, once again odors are released.

Ineffective maintenance: While uric acid was identified as the key odor-causing culprit, it appears many of the products, tools, or cleaning solutions used to clean restrooms were not effectively removing the uric acid and, with it, restroom odors.

"The study also confirmed what similar studies have uncovered," says Robb Borgen, director of marketing at Impact Products. "That is that most public restroom users perceive a restroom as dirty based on its smell, no matter how it may look."

To combat restroom odors, Borgen suggests that cleaning professionals and building managers develop a comprehensive odor-fighting system that comprises the following four components:

• Determine what is causing the odors (in most cases, uric acid).
• Determine where the odors are occurring.
• Determine what types of cleaning products (tools, equipment, solutions) can best eradicate the odor.
• Deploy an odor control solution, such as a fragrance or an olfactory disruption that changes odor perception, to leave behind a fresh scent.
Disclaimer: Please note that Facebook comments are posted through Facebook and cannot be approved, edited or declined by CleanLink.com. The opinions expressed in Facebook comments do not necessarily reflect those of CleanLink.com or its staff. To find out more about Facebook commenting please read the Conversation Guidelines.