Study Finds That C. Diff Survives On Floors After Disinfection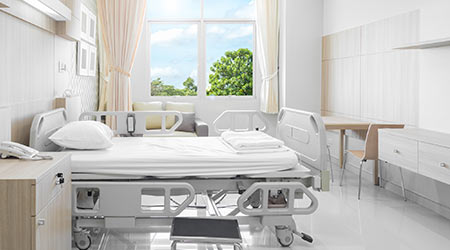 Studies have indicated that clostridium difficile (C.diff) spores can continue to thrive in floor corners, even after disinfection. The study, published in Infection Control & Hospital Epidemiology, identified locations within healthcare facilities where spores survived despite cleaning and disinfection.

Before and after terminal or hydrogen peroxide disinfection, researchers sampled 16 high-frequency contact sites or difficult-to-clean surfaces. According to reports on Becker's Hospital Review, C.diff survived most frequently in floor corners (29 percent) and on bathroom floors after routine and terminal cleaning of hospital rooms.

Researchers also identified nurse call buttons as a highly contaminated surface after both routine and terminal cleaning, and said added attention must be given to manually clean ceiling vents, according to a Healio article.

"In the healthcare setting, acquisition of C.diff is associated with environmental contamination as much as it is associated with person-to-person spread," the researchers wrote. "Previous occupants of the same bed area who were infected with pathogens that survive well in the environment are a risk factor for acquisition of the pathogen."

For one year, the study sampled sites in single-patient isolation rooms or bed areas in patient bed bays before and after terminal cleaning or hydrogen peroxide disinfection.

C.diff was found on 131 of 572 surfaces (22.9 percent) before terminal cleaning, 105 of 959 surfaces (10.6 percent) after terminal cleaning, and 43 of 967 surfaces (4.4 percent) after hydrogen peroxide disinfection.

The most common cause of hospital-acquired diarrhea, C.diff is resistant to some disinfectants, difficult to eradicate through cleaning and can persist for up to five months in the environment, the Healio article said.
Disclaimer: Please note that Facebook comments are posted through Facebook and cannot be approved, edited or declined by CleanLink.com. The opinions expressed in Facebook comments do not necessarily reflect those of CleanLink.com or its staff. To find out more about Facebook commenting please read the Conversation Guidelines.