Study Finds Copper Surfaces Reduce Bacteria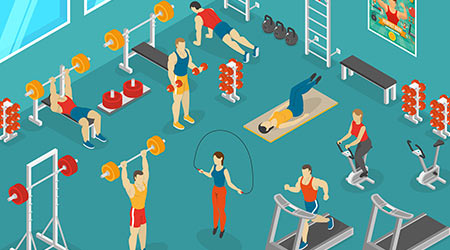 Using copper-alloy materials in fitness centers significantly reduced concentrations of bacteria on all equipment types, according to a new Grinnell University study published in the American Journal of Infection Control. The study shows that high-touch surfaces in gyms made with copper will maintain reduced bacterial loads, as found in similar studies performed in hospitals, according to an article on the Grinnell University website.

These results could reduce the number of community-acquired infections (CAIs). Led by Shannon Hinsa-Leasure, associate professor of biology, the study found significantly fewer bacteria on equipment with copper alloy grips such as dumbbells, barbells, kettlebells, specialty dumbbells, grip attachments, lat pulldown attachments and low row attachments.

Fitness centers and health clubs have long been locations for the transmission of community acquired infections. The study assessed the capacity of copper alloys to reduce the bacterial burden associated with high-touch athletic center equipment.

Copper alloy weights and grips were rotated with rubber coated and stainless steel controls in an undergraduate college athletic center over a 16-month period.

The study found that copper alloys can reduce the bacterial burden on high-touch surfaces. Strategically placing copper alloys in areas of high human contact can augment infection control efforts and potentially decrease community-acquired infections in athletic centers, the article said.

A similar Grinnell study looked at copper surfaces in healthcare facilities. Overall, the copper surfaces were found to have significantly lower concentrations of bacteria, at or below levels prescribed after terminal cleaning.

Vacant control rooms were found to have significant concentrations of bacteria.

Read the full article here.
Disclaimer: Please note that Facebook comments are posted through Facebook and cannot be approved, edited or declined by CleanLink.com. The opinions expressed in Facebook comments do not necessarily reflect those of CleanLink.com or its staff. To find out more about Facebook commenting please read the Conversation Guidelines.