Study Finds Comparable Productivity With Upright And Backpack Vacuums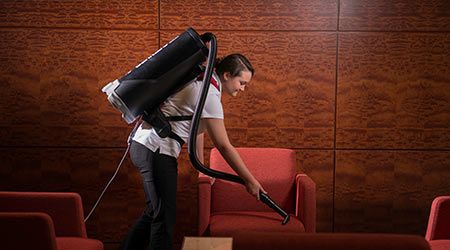 Innovations in commercial cleaning equipment can have a significant, positive impact on the productivity of cleaning crews, thereby reducing the cost of equipment ownership. This is according to a time and motion study commissioned by Sanitaire. The study also found minimal difference between upright and backpack vacuums in the time it takes to clean large commercial spaces.

The study conducted by the American Institute for Cleaning Sciences (AICS) found that backpack and upright vacuums can clean two to five times more square footage per hour than the ISSA 612 Cleaning Times study reported. The AICS study also found there is much less productivity difference between uprights and backpacks than the earlier study suggested. The AICS results offer another resource to help inform cleaning professionals' equipment and staffing decisions. The results can provide guidance to help contractors assess the true cost of cleaning by calculating the hours required for vacuuming a commercial building and the number of employees to do the work.

AICS measured practical cleaning times for 1,000 square feet of dense, low-profile carpeted floor space in a Class A commercial office building. The test areas included obstructed spaces that contained office cubicles, desks, chairs and wastebaskets, as well as unobstructed hallways.

Researchers tested both 12-inch and 15-inch commercial upright vacuums as well as corded and battery-powered backpack vacuums in the study. Six workers, three men and three women, vacuumed confetti dispersed throughout the spaces to simulate traffic vacuuming – the method most commonly used for commercial buildings.

The researchers found that workers averaged less than five minutes to clean 1,000 square feet in obstructed spaces and less than three minutes to vacuum unobstructed hallways with a 12-inch wide or 15-inch wide upright vacuum, approximately five times faster than the 2014 cleaning industry study estimated, and covering almost five times more square footage per hour. The AICS study determined that the workers could clean more than 12,000 square feet of obstructed space per hour with an upright and as much as 25,000 square feet of unobstructed space. The study also found that the corded backpack could clean 17,775 feet of unobstructed space per hour, approximately two-and-a-half times the square footage reported in the 2014 ISSA study, while the battery-powered backpack could clean more than 23,000 square feet per hour, or nearly twice the space than the earlier study estimated. The AICS study also found little either type of vacuum -- upright or backpack -- could clean 1,000 square feet of unobstructed space in less than three minutes and 1,000 square feet of obstructed space, such as office cubicles, in less than five minutes.

The data suggested the increased maneuverability, low weight at the vacuum handle and the added propulsion created by improved brushroll spin minimized stress for the upright operators, and better comfort and easy access to attachments for backpacks permitted the workers to clean faster.

The AICS results can help commercial cleaning professionals determine workloading requirements by calculating the total annual square footage to be cleaned, the hours required to vacuum that space, the number of employees required to do the job and the cost of wages and benefits for those workers.

"When selecting commercial vacuums, cleaning professionals should examine more than the purchase price of the machine. A product's contributions to productivity, ease of use, ease of equipment maintenance and long-term reliability of the machine may be even more important to ensuring profitability," said David Parkes, General Manager, Sanitaire.
Disclaimer: Please note that Facebook comments are posted through Facebook and cannot be approved, edited or declined by CleanLink.com. The opinions expressed in Facebook comments do not necessarily reflect those of CleanLink.com or its staff. To find out more about Facebook commenting please read the Conversation Guidelines.