Study Examines How To Enhance Floor Safety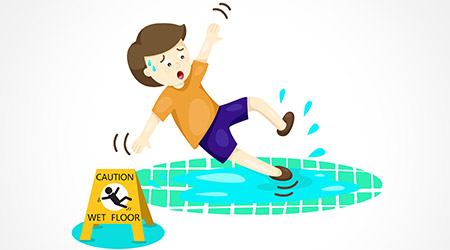 A recent study on floor safety suggests that many businesses' fall prevention programs may overlook the effects of flooring selection and ongoing maintenance on slip resistance.

The study was produced by CNA, a provider of insurance and risk management services. The resulting report said that floors in 50 percent of the surveyed sites failed to produce a dynamic coefficient of friction (DCOF) level above the minimum threshold of 0.42 (American National Standards Institute).

The review of slip and fall liability claims occurring from Jan. 1, 2010 to Dec. 31, 2016, found high-frequency but low-severity trends, which is consistent with claim experiences in the greater risk control industry.

According to frequency data, retail trade and real estate businesses present the greatest potential for slip and fall accidents, with harmful events occurring most often at these sites:
• 40 percent on walking/working surfaces, mainly entry flooring
• 33 percent on car park surfaces
• 27 percent on pavements leading to business entrances
• Less than 1 percent on interior office floors

There are many factors that contribute to slips and falls. It's important for people tasked with maintaining floors to identify hazards and do whatever possible to improve safety.

In an effort to help businesses apply safety measures, the report identifies four principles of floor safety:
• Choose flooring that is slip resistant; consider its properties and the space and environment
• Test floor for their resistance under wet conditions; use a tribometer to measure DCOF levels
• Use cleaning agents and methods that are compatible with the floor type, and apply them as directed by the manufacturers
• Promote awareness of risk conditions in the physical environment, along with those that are specific to the flooring

Click here to download the full report.
Disclaimer: Please note that Facebook comments are posted through Facebook and cannot be approved, edited or declined by CleanLink.com. The opinions expressed in Facebook comments do not necessarily reflect those of CleanLink.com or its staff. To find out more about Facebook commenting please read the Conversation Guidelines.