Spartan Recognized as 2016 Olmsted-Kirk Vendor Representative of the Year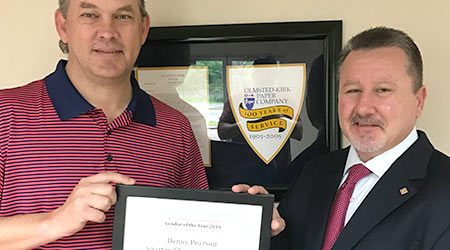 Spartan Chemical Company, a recognized leader in the formulation and manufacture of sustainable cleaning and sanitation solutions for the industrial and institutional market, announced Denny Pearson, regional manager, Spartan Chemical Company was named the Olmsted-Kirk Longview Branch 2016 Vendor Representative of the Year.

Olmsted-Kirk's vendor representative of the year award began back in 1999. Partnership with their vendors is critical to the growth of their business, and threrefore, each year a specific vendor representative is recognized based on votes, which are submitted by sales representatives in the company.

The award was presented to Denny Pearson by, Jeromy Calhoun, Vice President Longview Operations.