Spartan Chemical's Terra Glaze Featured on Award Winning Floor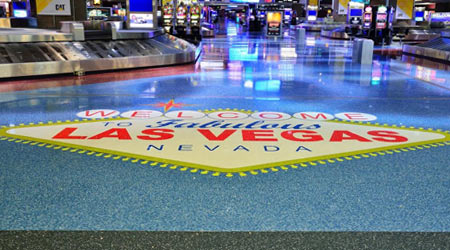 Spartan Chemical Company, Inc., a leader in the formulation and manufacture of sustainable cleaning and sanitation solutions for the industrial and institutional market, announced that Terra Glaze terrazzo coating seal was used to seal and protect the award winning, 2017 Job of the Year at McCarran International Airport in Las Vegas, Nevada.

Each year the NTMA honors one installation for craftsmanship and innovative use of terrazzo materials. This year, Corradini Corp., terrazzo contractor, was selected for the installation of the new floor at McCarran International Airport. Composed of 240,000 square feet of epoxy terrazzo, the floor at McCarran International Airport, Terminal 1 Baggage Claim, is a showcase for design detail and meticulous hand craftsmanship in terrazzo that perfectly captures the character of the city. Spartan was honored to have played a part in this impressive transformation.

The award was presented to Corradini Corp. during the National Terrazzo & Mosaic Association Technical Seminar in Orlando, Florida.