Spartan Chemical Manager Honored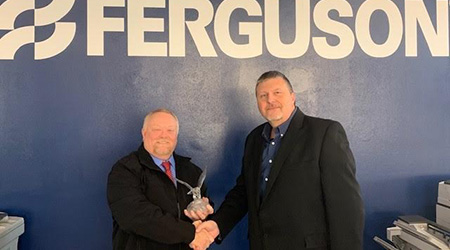 Spartan Chemical Company, Inc. a manufacturer of sustainable cleaning and sanitation solutions for the industrial and institutional market, announced that David Jones, Spartan Chemical regional manager, was awarded 2020 Vendor Representative of the Year by Ferguson Facility Supply in Houston.
Ferguson's vendor of the year is selected via a voting process conducted by the company sales representatives. The award recipient is chosen based on many factors such as reliability, problem solving, and being an expert in product knowledge.
"David is the hardest working vendor we have in the Houston market, by far," said Michael Franssen, sales manager, Ferguson. "He goes above and beyond to support us with the Spartan brand and his knowledge helped us tremendously though the COVID crisis. He is a great asset to our team."