Spartan Chemical Earns Two Big Awards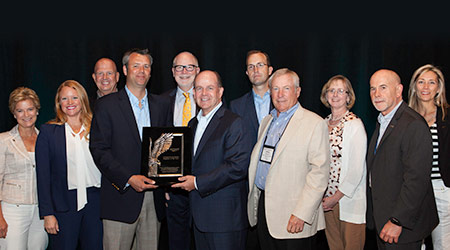 Spartan Chemical Company, Inc., manufacturer of sustainable cleaning and sanitation solutions for the industrial and institutional market, was awarded 2017 Corporate Account Supplier of the Year, as well as the exclusive honor of being named NETWORK'S Member Choice for best all-around service provider as voted by the NETWORK Members.

"Each year, Spartan ranks among the top suppliers by our membership," said Warren Noble, Vice President of Supplier Relations, Network Services Company. "This is the second year in a row that Spartan has been voted Member Choice; it is clear that commitment to distribution is at the core of their culture."

"Further validating Spartan's partnership with our membership, Spartan was also awarded Corporate Account Supplier of the Year," said Noble. "This award reflects their active engagement with NETWORK's sales & marketing team, effective commitment to cooperative selling, solid alignment in target verticals, and a strong position with NETWORK's member base."

"We are extremely honored and thankful to NETWORK and our distributor partners for this recognition," said John Swigart, President, Spartan Chemical Company. "It is with great pride that I share the Member Choice award with the entire Spartan organization; it truly takes a companywide effort to operate at this level of excellence."

"In response to changing market dynamics, Spartan has increased focus and dedicated resources to national account business," Swigart also added. "This award validates the commitment we have made and the incredible opportunity that we have."

The awards were presented to Spartan Chemical by Keith Marcoe, Chief Operating Officer, Alan Tomblin, President and CEO, Walter Delthlefsen, Senior Vice President, Greg Basso, Chairman of the Board, Natalie DePace, Vice President of Business Development, Kevin Rudd, Chief Sales and Marketing Officer and other NETWORK key personnel during the 2017

NETWORK Supplier Trade Show in Hollywood, Florida. Spartan Chemical was represented by Steve Swigart, CEO, Greg Ford, Vice President of Sales, Bryan Mangum, General Sales Manager and David Reed, Vice President of National Accounts, Doug Peterson, National Accounts Manager and Cali Sartor, Director of Marketing.