Safety Tips For Reopening Buildings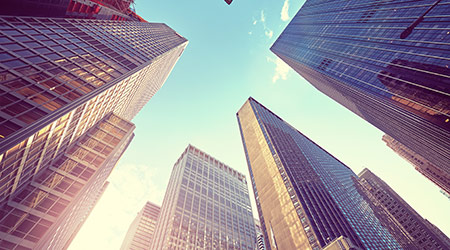 While the shutdown of in-person working for many businesses amidst the coronavirus pandemic allowed facilities the opportunity for deep cleaning projects, welcoming back employees to an infection-free building and keeping it that way are different challenges.
Among the facilities set to face the biggest challenges keeping infections at bay are high rise office buildings. Knowing the social distancing protocols themselves won't suffice on their own, ServiceMaster Restoration by Zaba compiled a list via Forbes of cleaning tips building owners can follow to give businesses the best chance at ensuring the safety of occupants and employees:
1. Increase Ventilation
The transmission of COVID-19 through droplets in the form of coughing, sneezing or simply talking makes the disease particularly contagious, especially in enclosed environments. While not the be-all end-all solution, the adoption of high-quality air filters to eradicate the volume of air droplets — along with opening whatever windows are possible — are two easy adjustments. Consulting an HVAC company to conduct routine air duct cleaning will also pay long-term dividends to ventilation quality
2. Daily High Touchpoint Disinfection
Certain surfaces of the office are touched by occupants far more often than anything else, including door handles, keypads, elevator buttons, handrails and coffee pots. Make sure cleaning teams get in the habit of not only addressing those spots daily, but closely following the directions on products in regards to application and dwell time.
3. Verify Disinfectants
While the selection of disinfectants is broad, not all options are created equal. The Centers for Disease Control and Prevention (CDC), which also provides an easily accessible list of U.S. Environmental Protection Agency-approved selections states that "For disinfection, most common, EPA-registered household disinfectants should be effective, as well as diluted household bleach solutions or alcohol solutions with at least 70 percent alcohol."
4. Develop A Cleaning Schedule
With recommendations and guidelines for products, frequencies constantly updating as more information is gained about COVID-19, creating a structured cleaning schedule with a format that allows for new information to be introduced can go a long way towards keeping cleaning staff informed and organized.
Click here for the entirety of ServiceMaster Restoration's tips.
While these guidelines above can apply to any facility set to re-open, the severity of different challenges can depend on sector. For the hospitality industry, the threat of pests in rooms without inhabitants in months looms. Read more on pest controls tips for hoteliers and others here.
Disclaimer: Please note that Facebook comments are posted through Facebook and cannot be approved, edited or declined by CleanLink.com. The opinions expressed in Facebook comments do not necessarily reflect those of CleanLink.com or its staff. To find out more about Facebook commenting please read the Conversation Guidelines.