Researchers Test How Long SARS-CoV-2 Survives On Skin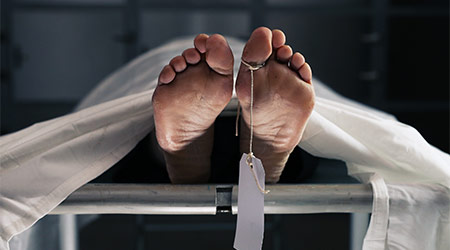 In an act that couldn't be more in line with the Halloween season, researchers in Japan used a recently-dead body to determine how long SARS-CoV-2 lasts on human skin.
The deceased had to be used for the study so that researchers could see how long SARS-CoV-2 (which causes COVID-19) lasts on the skin without actually putting it on that of a live person, reports Click On Detroit. What the researchers discovered is that SARS-CoV-2 can live on human skin for nine hours and even longer when mixed in with mucus. For context, the flu virus can live on skin for two hours.
The long life of SARS-CoV-2 is of course problematic. Fortunately, the researchers found that the virus becomes inactivated after just 15 seconds of being exposed to hand sanitizer.
Researchers did more than test SARS-CoV-2 on dead bodies. After putting the virus on glass and stainless steel, they found that it lives on those surfaces for more than three days. So the lesson learned (or rather reaffirmed) from all of this is that proper hygiene and consistent cleaning and disinfecting of surfaces is vital to slow the current pandemic.