PuroClean Hosts Annual International Convention to Celebrate Company Growth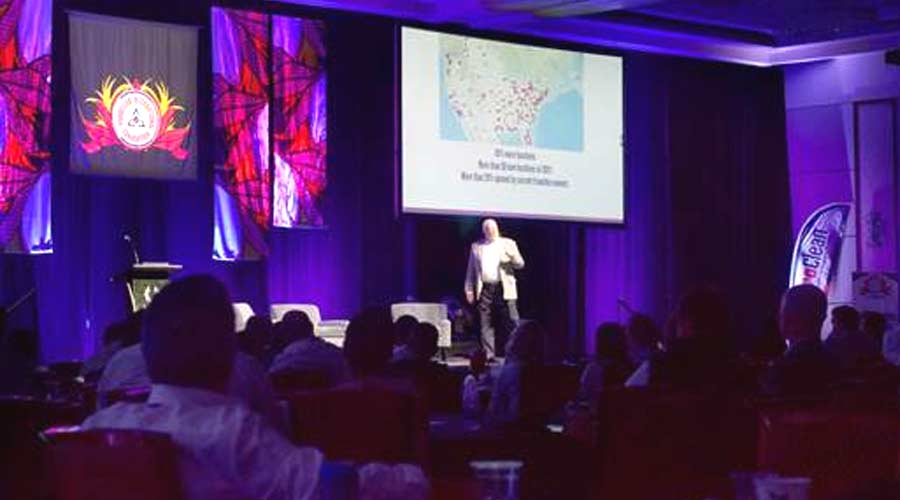 PuroClean, a leading property restoration and remediation franchise headquartered in Tamarac, Florida, celebrated its Annual International Convention last month at the Flamingo Hotel and Casino in Las Vegas. With more than 380 guests in attendance, Convention week began with PuroClean's annual golf tournament held on Sunday, followed by several days of training and continuing education sessions, a partner expo, an awards gala honoring franchise owners for their accomplishments within the recent year, networking opportunities, and much more.
"This team is really on fire, and Frank Torre (vice chairman), and I could not be prouder of the network we are today," said Mark W. Davis, chairman and CEO of PuroClean. "Coming together to honor those who stand above the crowd is a no-brainer for us. We are proud of the remarkable milestones achieved by this fantastic group, and we are looking forward to celebrating many more."
The weeklong event began on Sunday, May 15, with PuroClean's annual golf tournament at The Revere Golf Club, with all proceeds from charitable donations benefitting Feeding America, a nationwide network of food pantries. Following the golf outing, Monday morning's events kicked off with a breakfast and a partner's expo, proceeded by a series of training sessions sponsored by CoreLogic, a leading global property information, analytics, and data-enabled solutions provider. Through this partnership, PuroClean rolled out PuroLogic, an innovative new software offering for the franchise owner network, holding a series of training sessions for owners from all around the country. Tuesday's events featured a partner exhibition, a company update from President and COO, Steve White, departmental presentations, and the annual PuroClean "On The Move" Awards dinner. As is tradition, PuroClean also raised funds for Feeding America.
As this year's Convention took place in Las Vegas, live entertainment was a must. The welcome expo kicked off with "Joan Rivers" interacting with the crowd, making jokes, and keeping it light, sharing center stage with a roving magician who dazzled the crowd with sleight-of-hand tricks. For extra fun, Monday's expo attendees were treated to a 360o video booth which tied into the brand's logo. Tuesday's Awards dinner included a red-carpet entrance and featured the one and only "Frank Sinatra," singing "I did it The PuroClean Way," and other signature hits, accompanied by Vegas showgirls. Closing out the three-day event were Circe de Soleil stilt walkers, a DJ, and roving showgirl appetizer and dessert tables.
The PuroClean Convention honored both new and long-time franchise owners within the network in nine distinguished categories based on top sales, performance, and other criteria. PuroClean's Technician of the Year recognition was awarded to recipient, Molina McCarley for her outstanding work, breaking barriers and providing exceptional service on behalf of PuroClean Disaster Restoration Specialists in Charleston, SC.
PuroClean's 2021 award honorees included:
Franchise of the Year: Tomas Mejia & Sonia Gonzalez, PuroClean of Central Denver.
Rookie of the Year U.S: Ismail "Izzy" El Kehal, PuroClean of West Houston, Texas.
Hot Shot Award: Joe Thomas & Anthony Ciotti, PuroClean of Howell, Michigan.
PuroClean Rainmakers: David Acosta, Elmhurst, New York; Diego Barros, Longwood, Florida; Rob Hunter, Louisville, Kentucky; Julia Jones, Bradenton, Florida; Keegan Trudgen, Chicago; Chris Tucker, Fort Worth, Texas; and John Villon, Houston.
PuroClean Canada Rainmakers: Curtis Quinton, Calgary Central; and Deven Raval, Ottawa West.
Brand Promise Award: Nelson Rivera, PuroClean of Morristown, New Jersey.
PuroClean Cares Award: Wayne Terry, PuroClean Emergency Services, Jacksonville Florida.
On The Move Award: Robert Rodriguez and Peter Shine, PuroClean of Hoboken, New Jersey.
Continuing Education Award: Tim Walsh, PuroClean Emergency Restoration, Linthicum Heights, Maryland.
Technician of the Year: Molina McCarley, Dawn and Mark Erickson's PuroClean Disaster Restoration Specialists, Charleston, South Carolina.
Strategic Partner of the Year: Bright Pink Agency, Coral Springs, Florida.
The 41 offices representing the 2021 President's Circle members, who were celebrated earlier this year in March, were also presented with the customary trophies onstage at this event.
This year's Convention also offered a series of talks by special guests and industry leaders, including a speech by featured speaker Brian P. Callanan and company updates from CEO & Chairman Mark W. Davis and President and COO Steve White. PuroClean's leadership team also delivered themed presentations covering marketing, operations, franchise development, and business development, serving as the informational core of the event. Furthermore, Convention featured a variety of spotlight sessions from key sponsors, including Signal Restoration Services, U.S. Roofing and Restoration, International Drying Solutions, Aramsco, Legend Brands, CoreLogic, AirAnswers, and more. Franchise owners in attendance were also invited to participate in commercial large loss training, where they were educated more on how PuroClean's partnership with Signal Restoration can help them tackle larger commercial jobs following severe weather events.
"Coming together again this year as we do every year, as one team, we all look forward to celebrating our franchise owners and their successes. Seeing us all interacting with each other in such harmony makes us appreciate our PuroClean culture, which is reflected throughout our entire network across North America," says Steve White, president and COO of PuroClean. "Our franchise owners prove year over year that they are in this not just for the money but as an act of service to our communities. From the top-down, we emanate our core values of Servant Leadership, Extreme Ownership, and Active Collaboration every day. This is what sets us apart from our peers."