Sponsored
Profect® HP, Disinfects high touch surfaces in 1 minute!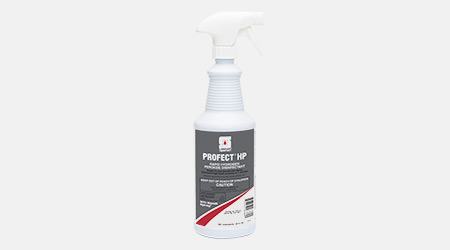 Use Profect HP daily as part of a simple and effective cleaning and disinfection program for your entire facility on hard, non-porous surfaces. Featuring patented hydrogen peroxide technology, Profect HP kills bacteria and viruses in 60 seconds. One minute contact times ensure efficacy and compliance for your most critical disinfection needs. Ideal for daily use on high-touch surfaces, Profect HP is available in a convenient ready-to-use quart. Effective, easy and safe, use Profect HP for all your one-step disinfecting, deodorizing, and cleaning needs.3
Kills bacteria, enveloped and non-enveloped viruses, and fungi
Offers safety, convenience, and broad spectrum kill in one product
One-step cleaner, sanitizer, viricidal*, fungicidal disinfectant3
Ready to use formula ensures proper ppm required for disinfection
Kills SARS-CoV-22 in just 30 seconds
ISSA Booth Number: 2245
2 On hard, non-porous surfaces.
3 When the use-directions for disinfection and sanitization are followed.