Products Named For CMS Purus Innovation Awards 2017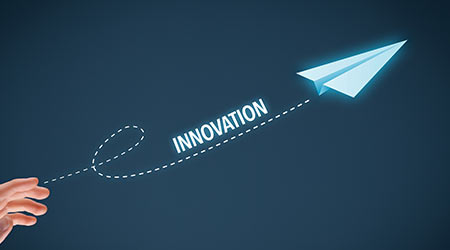 The presentation of the CMS Purus Innovation Awards 2017 (PIA) provided a special highlight at the close of the first day of the fair. The panel judged the innovations displayed by exhibitors in six categories at the International Cleaning Trade Fair, and awarded a special prize. The winners:

Large Machines category

ADLATUS Robotics GmbH:
ADLATUS CR 700 autonomous cleaning robot system

The ADLATUS CR 700 is remarkable for the fact that its operation is largely autonomous. Not only can this robot clean floors without human assistance, but it also automatically seeks out a docking station if its dirty water tank is full or if the battery is running low. It this way it can automatically refill with clean water and recharge its energy supply. With its comprehensive range of sensors the ADLATUS can cope with many different environments and adapt to changing conditions. It not only identifies solid walls and previously defined obstacles, but it can also easily register the presence of differently stocked shelves in a supermarket, or pallets that have recently been placed in an industrial storage unit. Equipped with this technology and with the remarkable interaction between the robot and the docking station, Adlatus is showing the way for autonomous cleaning systems.

Small Machines category

Kenter Bodenreinigungsmaschinen Vertriebs- und Service GmbH: i-Mop XXL

The i-Mop XXL combines the performance of a large machine with the manoeuvrability and flexibility of a floor wiper. This highly effective hybrid can be deployed anywhere. With its light weight and compact format it can also be used in buildings without lifts or where storage space is limited. This easy-to-use implement does not require any special devices for filling or disposal either, a standard tap and drain are sufficient. Its performance is also impressive, with the ability to clean thoroughly along edges and in corners. The i-Mop XXL is provided with a second battery enabling it to be easily kept in continuous operation. Even with its outstanding cleaning capabilities it is still much better value for money than a large machine. This product and its system therefore fill a large gap in the market, impressively combining the advantages of small and large machines in a thoroughly effective way.

Category: Equipment

Alfred Kärcher GmbH & Co. KG
EASY!Force Advanced

The EASY!Force pistol is a highly innovative product that perfectly combines good ergonomics with workplace safety, usability and sustainability. The trigger is activated by the ball of the hand, thereby substantially reducing the kick-back effect of the high pressure jet, and in this way effectively preventing any risks to the user's health. An additional, flexibly adjustable grip on the pistol rod makes it easier to operate overhead and in hard-to-access areas. With a new kind of all-ceramic valve and materials of excellent quality this pistol has a working life up to five times longer, thereby contributing to its sustainability. The EASY! Force Advanced pistol is notable for its thoroughly well thought out concept and its many innovative features, with obvious benefits for the user.

Category: Equipment – SPECIAL PRIZE

EMIL DEISS KG:
UNIVERSAL PLUS rubbish bags

This company demonstrates how research and attention to detail can produce far-reaching effects. Its innovative rubbish bags are very easy to use, and consequently they offer the cleaning sector enormous savings of time and money. With their ingenious, patented perforation and "Easy Opener" technology the bags can be separated from one another and opened in next to no time. The special plastic film is strong and tear-resistant and prevents the sides of the bags from sticking together. With these features this product simplifies and speeds up the process of changing bags, one of the most frequent processes in the cleaning of buildings. With these cleverly thought-out innovations UNIVERSAL PLUS rubbish bags not only help cleaning staff in their daily work but also enable the entire industry to significantly improve its efficiency.

Category: Digital Tools and Systems

Vermop Salmon GmbH
Vermop Digital: System ONe

Vermop Digital offers a forward-looking system to improve processes. Data is recorded in real time using sensors installed in cleaning equipment and precise details about the devices' locations. The interconnected appliances make it possible at any time to determine where cleaning has been taking place, and for how long, what buildings are occupied and the time needed to cover the distances involved. This innovative technology replaces scanner systems and the laborious manual entry of details by the cleaning staff. Rooms no longer have to be prepared with beacons or barcodes. The 3-D visualisation of the rooms enables the cleaning process to be understood in detail and improved if need be. This is a very open system and the technology can also be used with third party appliances and can be transferred to other areas. In so doing it forms an important basis for the future of intelligent process and quality optimisation.

Washroom Hygiene category

OPHARDT Hygiene-Technik GmbH + Co. KG

the untouchable

A modern tap system, the untouchable, combines hygiene with sustainability. The advanced, minimalist design incorporates access to water, soap and disinfectant in a single tap. Simple hand gestures are used to control the tap without any physical contact. The particular selection is confirmed by means of visual and acoustic feedback. The contactless operation avoid the transfer of germs, which is particularly important as a means of avoiding the spread of infections in heavily frequented clinics and washrooms. The system is also self-cleaning and can be used with consumables from various manufacturers. In addition to improved hygiene standards and ease of use, the panel of judges was also impressed by the sustainable design, with a reduction of up to 70 per cent in the water consumption. To sum up, with the untouchable, OPHARDT has succeeded in producing a clearly structured, logical system which offers added value to users and operators alike.

Cleaning Products category:

Wetrok AG
Granuline

With Granuline a highly effective group of products based on granules has been created that, for the first time, can match the cleaning capabilities of liquid cleaning products. The speed with which the granules are dissolved in water has never previously been achieved by any other manufacturer. The marketing of this cleaning product in the form of small, light sticks of powder results in enormous savings in the costs of transport, logistics and storage. The packaging units are already pre-measured, thereby avoiding mistakes or the application of excessive amounts, which also cuts costs and helps to protect the environment. In addition to the use as a liquid cleaner, Wetroks also supplies foam bottles that enable the granules to produce an effective cleaning foam at the press of a button. This can be deployed with great accuracy, thereby also reducing the amount used. This is an altogether intelligent, user-friendly system offering high quality cleaning at a reduced cost, as well as helping to protect the environment.

All 17 of the entries that made it through to the final round can be seen in a special show in Hall 6.2 during CMS Berlin. A total of 62 entries were received for this year's PIA, more than ever before. The International Cleaning Trade Fair CMS Berlin 2017 – Cleaning.Management.Services. is taking place from 19 to 22 September on the Berlin Exhibition Grounds.