Previewing CleanLink's Women in Cleaning Event: Keeping Career Development on Track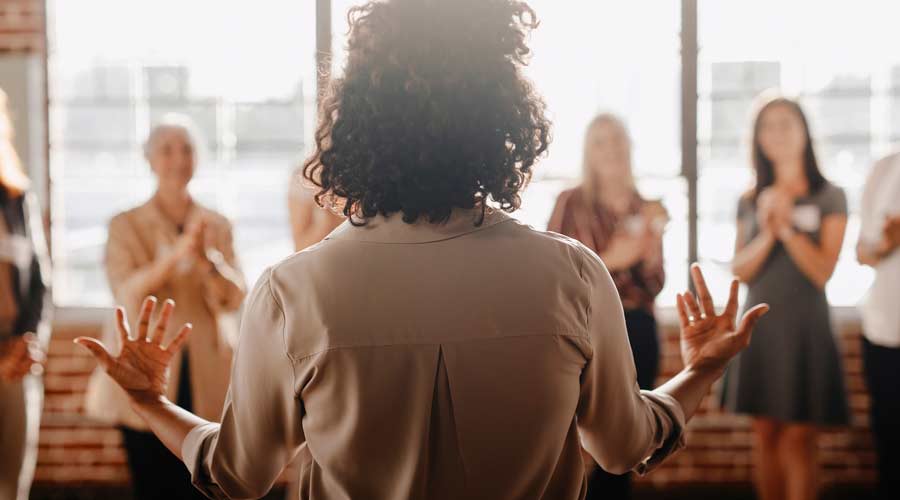 The Women in Cleaning 2023 virtual roundtable is less than three weeks away! Slated for April 19 from 1-3 PM ET, the event brings together different perspectives to discuss the ways women continue to shape and impact on the commercial cleaning industry. Designed to be insightful, interactive, and inspirational, the diverse panel will offer their thoughts on how to increase the visibility of women in the industry and share their strategies for success. It's a highly collaborative session addressing fears and frustrations, as well as sharing wins and championing the increased presence and leadership of women in cleaning.
Among the notable speakers in this year's event is Luciana Paulise, leadership coach with WeCulture who will be presenting "Keeping Career Development on Track." A recent McKinsey/LeanIn.Org research project conducted in partnership revealed that one in three working women considered leaving the workforce or downshifting their careers because of the stress the pandemic placed upon traditional parenting, caregiving and professional roles. Now, the post-pandemic world is asking for help, and existing models no longer work. It's time to become agile. In this session Paulise will tell her story of personal growth and how she discovered the importance of working on herself before leading others.
Specific topics include:
The stages of the self-care journey
How ‐ and why ‐ to define your purpose
Identify strategies increase self-awareness and remove common daily blocks
To gain further insight into what attendees can expect, we connected with Paulise, who provided plenty of additional expertise on company culture, work-life balance, employee retention and more:
What are some of the biggest challenges women in the workplace currently face and how has that changed since before the pandemic?
Paulise: When growing their careers, women have always had to overcome unique challenges compared to men, particularly in science, technology, engineering, and mathematics occupations or other male-dominated jobs. The COVID-19 crisis has only exacerbated the problems many women face in the workplace. Since the pandemic began, more women have reported that the working environment has become even more negative, challenging, and hostile.
1. Work-life balance: More women than men juggle a "double shift"—a full day of work followed by hours spent caring for children and household labor proved by decades of research as per the McKinsey report. Mothers also face persistent bias in the workplace. There's also a false perception that mothers are less committed than fathers and women without children. For example, when mothers take advantage of flexible work options, that perception is strengthened, even if they are just as productive as other employees.
2. Higher performance standards: Women are often held to higher performance standards than men, and they may be more likely to take the blame for failure, especially during times of crisis.
3. Peer pressure: The pressure of being the only woman in a group of men can be overwhelming: Senior-level women are nearly twice as likely as women overall to be "onlys" the only or one of the only women in the room at work. They are more likely to feel pressure to work more and experience micro-aggressions or harsh comments regarding their appearance, hair, or clothing, or even their competence.
4. Lack of support and sponsorship: Women are less likely to say their manager advocates for new opportunities for them, especially if there aren't other women to support them (if they are "the only ones" on a team of men). Women also tend to have fewer interactions with senior leaders. In the end, they end up not getting the network or the sponsorship they need to advance. When a female leader leaves one organization for another, it's not only a concern for the other female employees at the first organization, but it's also an issue at the corporate level that must be resolved. Research shows that organizations are 50 percent more likely to outperform their peers when more women are at the top. Women at the top also can help other women within the organization grow and help bring cultural change and diversity to the table.
5. Industry bias: Women remain highly underrepresented in software engineering; only three out of ten workers in the field of STEM in Latin America and the Caribbean are women
Why is it important for employers/management to encourage work-life balance, and how can they do so while ensuring the work gets done?
Paulise: It is essential for managers to encourage work/life balance because, on the one hand, this benefit is appreciated fro women that want to also be moms, wives, daughters or friends, that is, women that want to have a life outside of work. But it is also important because it makes their work sustainable. If they are burnout and stressed, they cannot perform at their best. The younger generations are not so ready to give their lives outside of work, and that should be OK. if managers set the example that working from 8 to 5 is OK, it helps everyone set the same standards and maintain them over time. if not, your candidate pool will shrink, given that now (especially after COVID-19), many other companies appreciate work-life balance. To ensure work gets done, they need to both employer and employee agree on KPIs, goals and timelines, and be transparent about what is needed, what is being done (using tools like Jira, Trello or Sunsamafor instance that help you track everyone's work) and be flexible enough to prioritize. Avoiding the culture of "everything is urgent" is one of the main steps.
What are some ways that women can advocate for themselves in the workplace and what are the benefits for doing so?
Paulise: Among the best strategies to overcome the challenges of being underrepresented are empowering them through:
1) Being part of minority networks and support groups (formally or informally). Many organizations are forming equality groups so like-minded people can openly discuss issues that concern them. Self-employed women on their side can certify their businesses as women-owned and receive the benefits of being part of a network of women. For example, when I moved to Beaumont, Texas, it was a male-dominated industrial town with barely any Latinas participating in groups or networking events. So I teamed up with other Latinas business owners, and we founded the SETX Hispanic Women's Network to help empower women in the area who speak Spanish and want to grow professionally.
2) Identifying fears or barriers that hold them back. From working on gaining self-confidence to teaming up, women can achieve a better work-life balance. In many cases, women feel they must be in charge of most of the household chores, or at least that is the tacit agreement they have with their partners. Women must start having the conversation about sharing the burden and working in teams with other family members. The same happens at work: Women tend not to work in teams, sometimes so they don't look weak.
3) Getting a mentor or sponsor within the organization or an external coach. A lack of mentors and advisors can stunt your professional growth. These fears and barriers can be unconscious, so getting a coach can help identify strengths and improvement opportunities, increase self-confidence, and become an accountability partner to move — slowly but steadily — in the right direction.
4) Playing to their strengths is key, as is accepting that bias continues to exist. Yes, minorities face unfair biases in the workplace, but that doesn't have to stop them from trying to grow, showing their strengths, and helping others grow too. Minorities bring unique perspectives, ideas, and experiences to the table. Focus on what they are good at, not on what they lack.
How can managers reduce the feeling of imposter syndrome and improve company/department culture?
Paulise: As managers notice the employee's struggles, they hold them back, delaying promotions or highlighting areas for improvement. When employees need support, their managers turn their biggest fears into reality. Ultimately, the employee withdraws, quits, or leaves the company.
To help them become their best version, managers need to be aware of this feeling and act in a way that supports the employee to overcome this inner barrier to career development.
1) Talk about it
Organize one-on-one coaching sessions with the employee to talk about what it is. More than telling them what to do, you may be more successful asking them what they need or how they see themselves.
2) Reframe "syndrome" as "thoughts".
Imposter syndrome is not a psychological diagnosis or an incurable disease. Some people suffer from it all their lives, and others only experience it in certain moments, but it is just about thoughts of being a failure. Employees can start changing patterns by being aware of these thoughts and why they have them.
3) Challenge and then reframe imposter thoughts.
Understand that they are thoughts, not facts, and remind the employee that they are not an accurate representation of competence, ability, or knowledge. Instead, tell them how you see them, how competent you think they are and highlight their strengths.
4) Help with career planning.
Don't believe them immediately when they say they don't want a promotion or are not ready for the project. It may just be part of the lack of confidence driven by the impostor syndrome that helps them to define what they want to accomplish and plan together what they need to do to achieve it. Taking baby steps will help them focus on what they can do more than what they lack.
5) Challenge stereotypes about what constitutes competence.
Ph.D. Lisa and Richard Orbé-Austin say in their book "Own your greatness" that "impostor syndrome becomes harder to cope with when the stereotypes about your cultural group reinforce the notion that you are not "good enough."When they don't get promoted, that reinforces their feelings of incompetence and lack of validation from others. Demonstrate with examples that anyone, regardless of background, age or culture, can grow in the company.
6) Develop psychological safety in your work environment.
In an environment where employees are ranked, some are called "stars," or competition is celebrated. They work better in collaborative environments. Foster a culture that does not promote perfectionism, working long hours, or being the best.
7) Check your bias when allocating rewards and assignments.
Pay attention to who you promote, assign bonuses or distribute tasks. Studies show that minorities are being paid less than their counterparts or are not given enough opportunities. Trust that they can do well despite their fears, so do not be afraid to promote them or give them challenging assignments.
What is "We Culture" and how can it benefit the working environment and the people within it?
Paulise: Workplaces need to evolve from a me to a we mindset to survive. We culture companies promote a team-oriented culture that encourages employees to share more resources instead of competing and collaborating. This sense of collaboration reduces the stress employees usually feel at work, reducing burnout and increasing engagement and satisfaction. Employees who feel better at work are able to build better products and services for their customers. Customers have a more inspiring buying experience, so they buy more often, recommend the products to others, and even contribute with ideas for future products. More sales, more innovation, and less wasted resources end up increasing the business's bottom line organically through a virtuous cycle that continues reinforcing better results over time. We Culture focuses on creating value with all stakeholders, expanding beyond shareholders to include customers, employees, partners, and society in a system where everyone can win.
Changing the culture, employees' habits and shared beliefs, is an opportunity for companies to improve employee engagement and profitability. The first step is to define that you want a "We culture", and work intentionally to achieve it, changing leaders' behaviors to drive more connection, attention, respect and empowerment.
Registration for this event is only $49! For registration and additional information, click here.