Potential Disease Outbreaks Hit Olympic Games In Pyeongchang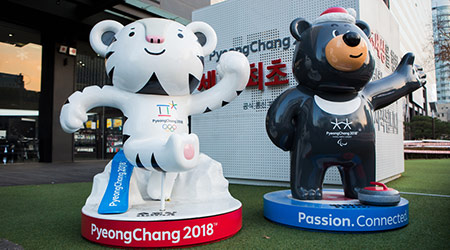 A suspected norovirus outbreak has already hit individuals working at the Olympic Games in Pyeongchang. According to Travel and Leisure reports, the virus has quarantined some 1,200 security staff, hospitalizing 41 and forcing military personnel to temporarily step in.

South Korean health authorities are working to prevent the possibility of further outbreaks at these winter games. In fact, according to Korea BioMeddical Review, the Korea Centers for Disease Control and Prevention (KCDC) is conducting infection disease control training with the PyeongChang Olympic Organizing Committee, Donghae National Quarantine Station, and other local health authorities in advance of the games' kick-off on February 9. The training will cover responses to possible water-borne and food-borne disease outbreaks, as well as an avian influenza outbreak.

The Donghae station will also coordinate a system of organizations to execute a quarantine response and respond to outbreaks.

Prevention measures are important in the upcoming environment because Olympic participants will be living and working with domestic and foreign visitors participating in the winter games. International events are particularly vulnerable to infectious disease outbreaks because of the crowding of people from different countries in one location.

The Korean National Tuberculosis Association (KNTA) is focusing on two primary diseases that frequently occur at international events – meningococcal meningitis and tuberculosis.

Meningococcal meningitis cases more than tripled in South Korea during ceremonies when the country hosted significant international events, such as the 2002 World Cup, according to the KNTA.

Korea has had the highest rate of tuberculosis (30,000 new cases each year) among 34 Organization for Economic Co-operation and Development (OECD) countries.

KNTA is will be offering meningococcal vaccine injections to Olympic 20,000 staff members until the games begin.