Poll Shows Americans' Restroom Hand Drying Preferences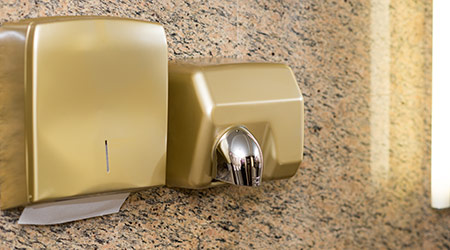 There's been a renewed focus on hand washing since the beginning of the COVID-19 pandemic. Americans say it's now more vital that they wash their hands because of the concern for germs, but a lower amount think it's important that they dry their hands after.
As part of its new Hand Hygiene is a Two-Part Process campaign, Cascades PRO polled 1,066 Americans July 2 to get a better sense of what their perceptions of hand hygiene were before and during the COVID-19 pandemic. Nearly three-quarters (73 percent) say they are washing their hands more often during the COVID-19 pandemic than they were before. However, just 51 percent say COVID-19 has impacted their thoughts on the importance of drying their hands after washing them in a public restroom. Similarly, 84 percent of Americans say it's extremely important for a person to wash his or hands after using a public restroom, but just 48 percent say it's important to dry those same hands after washing.
When it comes to what Americans prefer to dry their hands with in a public restroom, nearly two-thirds (61 percent) say they like using paper towels from a touchless dispenser. Nearly a quarter (23 percent) say they prefer touchless air hand dryers. Only six percent say they prefer using paper towels from a manual dispenser and just two percent like to use pushbutton air hand dryers. The poll shows that the respondents felt just about the same way before the pandemic started, with 57 percent saying they preferred using paper towels from a touchless dispenser and the same 23 percent saying they preferred touchless air hand dryers.
The respondents who say they prefer paper towels for drying their hands say they feel that way because they believe paper towels dry hands more thoroughly than other methods (57 percent), dry hands faster (45 percent) and are more hygienic (42 percent).
Disclaimer: Please note that Facebook comments are posted through Facebook and cannot be approved, edited or declined by CleanLink.com. The opinions expressed in Facebook comments do not necessarily reflect those of CleanLink.com or its staff. To find out more about Facebook commenting please read the Conversation Guidelines.