Poll Says Foul Odors Result In Lost Business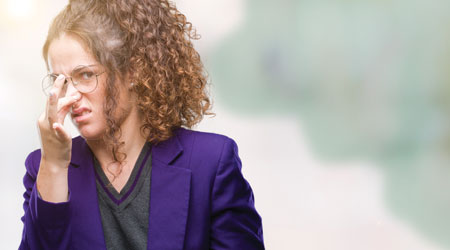 Lapses in odor control can be a major detriment to an organization's business, according to the results of a new survey spearheaded by odor elimination company Oxy-Gen Powered.
The survey, which was conducted by The Harris Poll from Jan 9 to 13, surveyed more than 2,000 American adults. The majority of the respondents (93 percent) say a foul odor would negatively impact their perception of an organization.
"No building occupant or visitor wants to be greeted with an unpleasant smell in a lobby, restroom or anywhere else in a facility," says Andy Piucci, vice president of sales – North America, Oxy-Gen Powered. "This research highlights the risk organizations take when they fail to properly eliminate indoor odors caused by urine, feces, kitchens, mold, mildew, pets and more."
The poll also offers a closer look at the types of businesses most affected by unpleasant smells.
Nearly 80 percent of respondents say a foul odor at a restaurant would negatively impact their perception of that business. Foul odors in a hotel would negatively influence three in four Americans' opinions of that business and nearly two thirds would think adversely about a shopping mall or retail store with foul odor issues. Foul odors would also negatively impact more than half of Americans' perceptions of entertainment venues (63 percent), office buildings (57 percent) and gym/fitness centers (56 percent).
When people encounter malodors, many change their perceptions of a facility or take steps to avoid it in the future. Just over half of Americans say after experiencing a foul odor in an organization's facility they would assume the facility is not clean or they would look for an alternative facility. Half would spend less time in the facility, 46 percent would tell friends, family or colleagues about the incident and just over a third would never return to the facility again.
Disclaimer: Please note that Facebook comments are posted through Facebook and cannot be approved, edited or declined by CleanLink.com. The opinions expressed in Facebook comments do not necessarily reflect those of CleanLink.com or its staff. To find out more about Facebook commenting please read the Conversation Guidelines.