OSHA Releases Fall Protection Rule for 112 Million Workers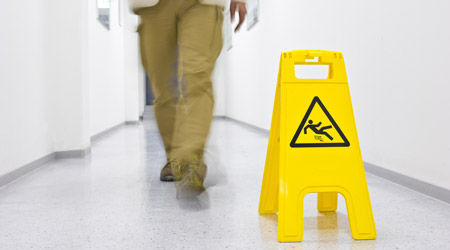 Factories, warehouses and hospitals are among the employers expected to comply with OSHA's final rule released Nov. 17 for general industry fall protection. The rule, covering an estimated 112 million workers, will take effect Jan. 17, though some compliance deadlines are delayed. Training requirements become mandatory in July 2017 and deadlines to comply with regulations for fixed ladders start in November 2018.

The rule updates the 45-year-old walking-working surfaces standards (29 C.F.R. 1910 Subpart D) and the personal protective equipment standards (29 C.F.R. 1910 Subpart I) by taking into account changes to safety practices and gear made since 1971.

Lives Saved, Injuries Prevented
"OSHA believes advances in technology and greater flexibility will reduce worker deaths and injuries from falls," Occupational Safety and Health Administration head David Michaels said in statement to Bloomberg BNA.

The agency estimates the rule will prevent 29 fatalities and 5,842 injuries serious enough to keep an employee away from his job for at least one day. Implementation of the rule will directly cost employers $305 million annually. The rule, however, will save the economy $614.5 million annually in lesser medical costs and fewer workers killed on the job.

In general, the rule requires employers to identify slip, trip and fall hazards and then provide fall protection, ranging from guard rails to tethered harnesses.

Because OSHA's last version of the rule appeared in 2010 as a proposal, industry officials on Nov. 17 weren't ready to discuss their potential concerns with the 1,225-page final rule.

"Based on our strong interest in safety, the billboard industry looks forward to reviewing this lengthy rule," Nicole Haynes, communications director for the Outdoor Advertising Association of America, told Bloomberg BNA.

Sweeping Coverage
The fall protection rule covers all general industry walking-working surfaces, including floors, ladders, stairways, runways, dockboards, roofs, scaffolds, and elevated work surfaces and walkways.

OSHA says the rule will ease compliance because the regulations use "performance-based" requirements instead of specifying practices.

"OSHA believes the flexibility the final rule provides will allow employers to select and provide the controls they determine will be most effective… to protect their workers and prevent injuries and fatalities from occurring," the rule says.

Many of the rules' requirements are already being met by employers who adhere to fall prevention-related consensus standards, the rule says.

The consensus standards include ANSI A1264.1-2007 Safety Requirements for Workplace Walking/Working Surfaces and Their Access; ASSE Z359.1-2007 Safety Requirements for Personal Fall Arrest Systems, Subsystems and Components; and ANSI I-14.1-2001, Window Cleaning Safety Standard.

The rule should ease compliance for companies whose projects are covered by general industry and construction standards, the rule says. It also allows employers to use the same fall protection systems and equipment and follow the same practices when they're doing general industry or construction work.

For more information, click here.
Disclaimer: Please note that Facebook comments are posted through Facebook and cannot be approved, edited or declined by CleanLink.com. The opinions expressed in Facebook comments do not necessarily reflect those of CleanLink.com or its staff. To find out more about Facebook commenting please read the Conversation Guidelines.