Nitrile Gloves Demand Highlights PPE Importance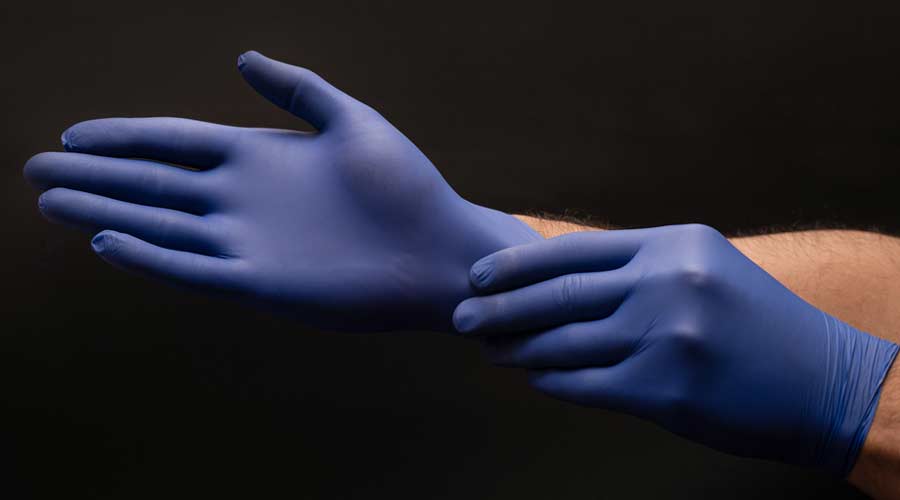 While the demand for some types personal protective equipment (PPE) has fluctuated before and after the pandemic such as masks, others have a more consistent demand. Among the steady risers are nitrile gloves, which for frontline cleaning crews are expected to be a growing mainstay as the scrutiny on hygiene and infection prevention persists.
The global market for nitrile gloves is poised for substantial growth, with a projected Compound Annual Growth Rate (CAGR) of 6 percent during the forecast period from 2023 to 2031, according to recent findings from Research and Markets.
Nitrile gloves, crafted from a synthetic rubber material, are gaining momentum as a popular choice for disposable gloves. Recent years have witnessed significant cost-effectiveness improvements in nitrile production, making it an attractive option for the healthcare, food, and cleaning industries. Known for its remarkable puncture resistance, nitrile gloves offer superior chemical protection compared to latex or vinyl alternatives.
Key Drivers of Growth
The nitrile gloves market is expected to be driven by several factors, including product variations, technological advancements, and increased demand across various industries. The oil and gas, chemical, pharmaceutical, medical, automotive, and cleaning industries are poised to become significant consumers of nitrile gloves. The emphasis on hygiene, especially in healthcare, beauty, and food sectors, is further fueling demand. The rising global awareness of viral and bacterial infections is driving the adoption of nitrile gloves for infection prevention. Moreover, the cost-effectiveness of nitrile gloves is a key factor.
Challenges and Constraints
Despite the growing demand for nitrile gloves, challenges in the supply chain have been noted, particularly due to unanticipated difficulties in the manufacturing process. The increased demand for nitrile gloves, coupled with supply chain disruptions, has led to shortages, impacting end-users and manufacturers alike. This situation has also contributed to price increases, potentially affecting market growth.
Product Variation and Applications
Powder-free gloves have gained significant traction, accounting for approximately 85 percent of the nitrile gloves market in 2022. The medical sector, in particular, has favored powder-free gloves due to their latex-free construction and reduced risk of latex aero-allergens. Sterile gloves, comprising around 72.5 percent of the market in 2022, have witnessed increased demand due to the rise in surgical procedures, driving the need for infection prevention.
Market Competition and Industry Landscape
The nitrile gloves market is characterized by intense competition and key players investing in research and development to introduce innovative product lines. Major players in the industry include Dynarex Corporation, Ansell LTD, Halyard, Superior Gloves, Shield Scientific, Renco Corporation, TG Medical Inc, Reflexx S.p.A., HighTech Conversions Inc, and The Glove Company. Strategic alliances, acquisitions, and partnerships have further shaped the competitive landscape, with companies striving to enhance their market presence and meet rising demand.
Conclusion
The global nitrile gloves market is poised for significant growth driven by factors such as increased demand across multiple industries, growing emphasis on hygiene, and technological advancements. However, challenges related to supply chain disruptions and potential price increases may impact market dynamics. As various industries recognize the benefits of nitrile gloves, their adoption is expected to contribute to infection prevention and safety measures, fostering further market expansion.
Click here for additional insights.