National Aquarium Implements Compostable Products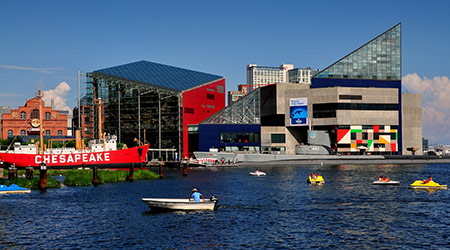 The National Aquarium in Baltimore will be switching to compostable cafeteria products in an effort to turn visitors' trash into fertile soil, according to Waste 360. The aquarium will be using compostable cups plates, lids, utensils, containers and trays in all the aquarium's food service locations. This replaces all the conventional plastic products that were previously used.

"This change is at the heart of our conservation mission, eliminating sources of pollution both for ecosystem and human health," Kris Hoellen, chief conservation officer at the National Aquarium, said in a statement. "Utilizing (compostable) items promotes an essential life-cycle approach to materials, whereby what once went in a landfill is now helping our trees and plants grow."

All plates, utensils and trays can now go into the same bin with any leftover food.

This composting turns food waste, food-soiled paper products, and compostable serviceware into nutrients for new plants to grow. Along with being good for the environment, composting also:
• Costs less than putting food waste into the landfill.
• Improves soil quality when the compost is applied to grounds care.
• Reduces the methane and nitrous oxide generated by landfills, two greenhouse gases that contribute to global warming.

At the aquarium, composting materials will be turned into soil and mulch for area farms, gardens and the Waterfront Park surrounding the aquarium. The new effort culminates a multiyear effort to reduce the use of conventional disposable plastics across the aquarium's operations.

"It's hard to get guests to first scrape the cheese off a plastic plate — and then toss the cheese into one bin to be composted and the plate into another," said Sarah Martinez, director of marketing at Eco-Products, the manufacturer of the compostable materials. "This makes it as easy as possible to divert materials from landfills. Guests can throw their plate, cup and any leftover food into the same bin."

Keeping ecological efforts convenient is viewed as half the battle for composting advocates.

Early in 2017, National nonprofit Keep America Beautiful and the United States Composting Council (USCC) announced that they, along with five other participating nonprofits and government agencies, recommend designating green as the voluntary container color standard for organics collection containers. The key factors supporting the recommendation of green as the preferred container color for organics collection containers are:
• A distinct, consistent color for organics containers provides a visual cue for program participants that studies indicate will likely increase recognition of the purpose of the container and the quality of recovered material;
• A distinct color that is different from the color used for trash (gray) and recycling (blue) collection containers can increase recovery; and
• Consistency in messaging across jurisdictions – including the use of container color – helps to minimize confusion and contamination.

To read more about the National Aquarium efforts, click here for the full article.
Disclaimer: Please note that Facebook comments are posted through Facebook and cannot be approved, edited or declined by CleanLink.com. The opinions expressed in Facebook comments do not necessarily reflect those of CleanLink.com or its staff. To find out more about Facebook commenting please read the Conversation Guidelines.