NAW Institute for Distribution Excellence Elects Three New Directors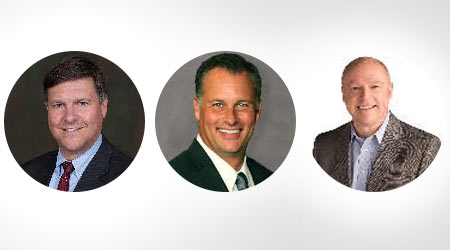 The NAW Institute for Distribution Excellence, the research arm of the National Association of Wholesaler-Distributors (NAW), has announced the election of three new members to its Board of Directors: Michael G. DeCata, President and CEO of Lawson Products, Inc.; Kevin M. Short, President and CEO of Polymershapes; and Edward Gerber, President and CEO of the Industrial Supply Association (ISA).

According to Ron Calhoun, Chairman of the NAW Institute for Distribution Excellence Board of Directors, and President and CEO of The Palmer Donavin Mfg. Co., "We are very pleased to have Mike DeCata, Kevin Short, and Ed Gerber join us on the NAW Institute Board. We look forward to their involvement and industry insight as the NAW Institute continues to produce excellent work for the benefit of the wholesale distribution industry."

Founded in 1952 and headquartered in Des Plaines, Illinois, Lawson Products sells and distributes specialty products to the industrial, commercial, institutional, and government maintenance, repair, and operations market (MRO). The company also manufactures, sells, and distributes specialized component parts, with services to original equipment manufacturers (OEMs) through the Automatic Screw Machine Products Company. Lawson Products is consistently recognized as one of The 50 Best Companies to Sell For by Selling Power magazine and is ranked among Industrial Distribution magazine's Big 50 and Modern Distribution Management's Top 40 Industrial Distributors.

Prior to joining Lawson Products in 2012, DeCata served in executive leadership roles at United Rentals, Inc.; W.W. Grainger, Inc.; General Electric; and Chef's Warehouse, a $300 million specialty food distributor where he served as President.

With headquarters in Huntersville, North Carolina, Polymershapes is a distributor of plastic sheet, rod, tube, film, and associated products, with more than 70 years of industry-leading heritage. The firm operates 67 distribution locations and serves 35,000 customers across the Americas in Canada, Mexico, Chile, and the U.S.

Prior to joining Polymershapes, Short was with Laird Plastics, holding a variety of commercial roles and serving on the executive team. Before entering the plastics distribution industry, Short spent several years in sales and sales management with Univar, one of the largest industrial chemical distributors.

Located in Philadelphia, Pennsylvania, the Industrial Supply Association (ISA) is the leading trade association for the maintenance, repair, operations, and production (MROP) supply channel. With more than 900 member companies, ISA provides education, networking, information, and relationships that drive success for its members and their customers in the Industrial MROP marketplace. Its mission is to help its members develop and advance their companies and careers.

Before joining ISA, Gerber spent more than 25 years within the distribution industry serving as President of Petry & Morrow, Director of Sales and Marketing for Precision Twist Drill Company, and Executive Vice President of Sales and Marketing for Industrial Distribution Group.

The balance of the NAW Institute Board includes:
Tim Buche, President and CEO, Motorcycle Industry Council
Ron Calhoun, President and CEO, The Palmer Donavin Mfg Co.
Talbot Gee, CEO, Heating, Air-conditioning and Refrigeration Distributors International (HARDI)
Vic Jury, CEO, Summit Electric Supply Co., Inc.
Kevin Kampe, President, Womack Machine Supply Co.
Jeff McLendon, President and CEO, U.S. Lumber Group
Thomas Naber, President and CEO, National Association of Electrical Distributors (NAED)
George Pattee, Chairman, Parksite, Inc.
Joe Poehling, Chairman, First Supply LLC
Larry Stoddard, President and CEO, RelaDyne
Ralph Suppa, President and General Manager, Canadian Institute of Plumbing & Heating (CIPH)
Joseph Thompson, Founder, Thompson Management Associates
Doug York, President and CEO, Ewing Irrigation Products Inc.
Disclaimer: Please note that Facebook comments are posted through Facebook and cannot be approved, edited or declined by CleanLink.com. The opinions expressed in Facebook comments do not necessarily reflect those of CleanLink.com or its staff. To find out more about Facebook commenting please read the Conversation Guidelines.