NACD Joins Push to Demand Paid Sick Leave for Rail Workers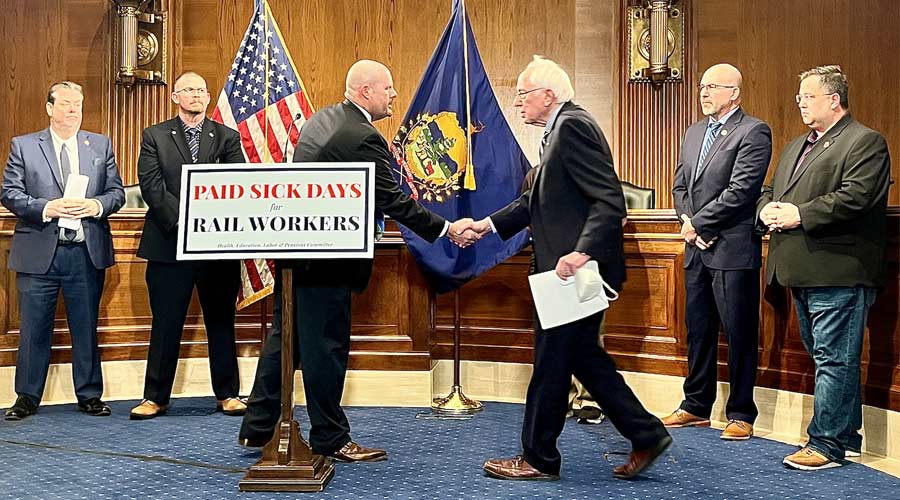 National Association of Chemical Distributors (NACD) President and CEO Eric R. Byer joined Senator Bernie Sanders (I-VT), chairman of the U.S. Senate Committee on Health, Education, Labor, and Pensions (HELP), and Senator Mike Braun (R-IN) to call on freight rail companies to address basic quality-of-life benefits for rail workers.
This press conference comes after negotiations between freight rail companies and rail unions failed to include paid sick leave as part of a deal to avert a rail strike last year. Congress also failed to pass an amendment introduced by Senator Sanders, and voted for by Senator Braun, which would guarantee additional sick leave to rail workers across the nation.
In his remarks, Byer underscored the importance of the nation's freight rail system to NACD members.
"A lot of our members utilize rail yards and terminals around the country," says Byer. "For us, it's really important to have qualified, skilled rail employees at these locations so we can get these products, put them on trucks, and get them off to the end-users safely. Without them, we are not going to be able to have a successful and vibrant supply chain, which we've been struggling with over the last few years."
Byer also highlighted the significant differences in sick leave given to private sector employees compared to the lack of quality-of-life benefits given rail workers.
"It's important to recognize that according to the Bureau of Labor Statistics, private entities have seven to eight days of paid sick leave for their employees," says Byer. "There's no reason why the rail workers shouldn't have those same benefits. So, we're going to keep pushing with you all and you certainly have NACD's support."
Senator Sanders broke down the record-breaking profits of freight rail companies in his remarks and clarified the minimal costs of providing commonsense quality-of-life benefits to employees.
"Let us be clear: Guaranteeing seven paid sick days to rail workers would cost the entire industry just $321 million, less than 1.2 percent of their profits in a single year," said Senator Sanders. "And they tell us they cannot afford sick days. In my view, if the industry can afford to spend over $20 billion on stock buy-backs and hand out huge dividends to their wealthy shareholders, they can afford to provide rail workers with at least seven paid sick days."
In his remarks, Senator Braun underscored the importance of treating employees right.
"This was an easy issue for me," says Senator Braun. "If you treat your employees like family, if you do what I'm proud of — in the lowest unemployment county, generally, in the state of Indiana – where you pay the highest wage and you get good benefits, people come to your place to work, and they stay there over time. So, it's not a complicated formula."
Also joining the press conference were representatives from SMART-TD, the Brotherhood of Locomotive Engineers and Trainmen, the Brotherhood of Railroad Signalmen, the Brotherhood of Maintenance of Way Employees, and the AFL-CIO Transportation Trades Department.
To watch the full press conference, click here.